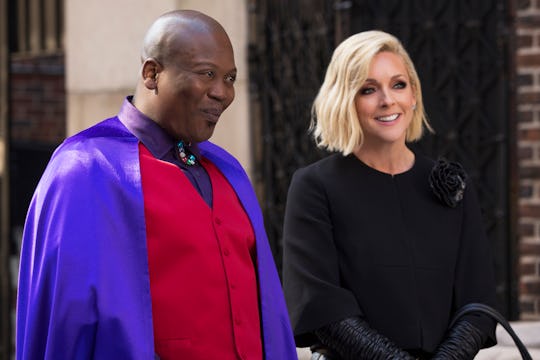 Eric Liebowitz/Netflix
When Will Part 2 Of 'Unbreakable Kimmy Schmidt's 4th Season Premiere?
For the final season of Unbreakable Kimmy Schmidt, fans will have to endure waiting between part one and part two for the end to really be here. Instead of releasing all 13 episodes of Season 4 at once, Netflix has opted to break the season into two separate parts. So when will part 2 of Unbreakable Kimmy Schmidt Season 4 premiere on Netflix? The first six episodes are set to premiere on May 30, with the other seven to be released on January 25, 2019, as Netflix announced on May 31. The second part of Season 4 will be the final batch of episodes for the hit Netflix sitcom.
This isn't the first time Netflix has used this model with half-hour comedies, though. Although Season 3 of Fuller House wasn't the show's last by any means, it was broken up into two equal parts, which the first premiering in September of 2017 and the second in December of the same year. If there's a similar plan in place for Unbreakable Kimmy Schmidt Season 4, then fans can expect part two to premiere on Netflix at the beginning of 2019. Of course that means the end isn't as close as we originally thought it was, but it also means that we now know when we'll officially have to say goodbye to Unbreakable Kimmy Schmidt.
Part one of the final season premieres on Netflix on May 30 with six episodes, and the remaining seven are set to be released afterward, though since the second half of the season is still filming, it's understandable that the premiere date isn't until early 2019. When Tituss Burgess (Titus) spoke to The Atlanta Journal Constitution at the end of May, it was during a break in filming Episode 10 of the 13-episode season, so clearly getting the episodes finished is the number one priority here. According to Burgess, he's as much in the dark about how the series will end as anyone else. "I never know anything about story lines or plots until I get the scripts," he admitted. "I don't even know yet how it's going to end." Way to keep us on the edge of our seats, Tituss!
The whole reason for the prolonged filming schedule may have had something to do with co-creator Tina Fey's busier than ever schedule. In addition to working on Unbreakable Kimmy Schmidt, the former Saturday Night Live star has also been working on the Tony Award nominated Broadway production of Mean Girls, and, of course, NBC's Great News. So in order to also help write the final episodes for Season 4 of Unbreakable Kimmy Schmidt, it was likely a very careful balancing act. The end result is a final season broken up into two parts, with part two premiering on Netflix before the end of January 2019.
Originally, the comedy series was supposed to premiere on NBC, which makes sense since Fey has had a long standing relationship with the network, but when they passed on it the series at the last minute, Netflix grabbed the series for 13 episodes. Before the first season had even premiered on the streaming platform, Netflix went ahead and renewed it for a second season. That being said, the decision to end the show after four seasons was likely due to wanting to quit while they're ahead rather than a lack of viewership. I fully expect both parts of Unbreakable Kimmy Schmidt Season 4 to live up to the high expectations the show has set so far, even if part two won't be made available until at least a few months from now.