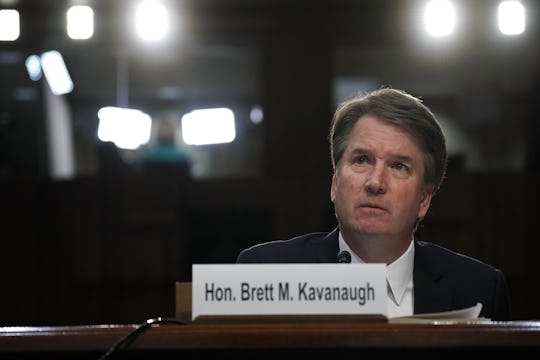 Alex Wong/Getty Images News/Getty Images
When Will Professor Christine Blasey Ford Testify? Here's What We Know
As time inches closer to the 2018 midterm elections, the country is carefully watching the confirmation hearings of President Donald Trump's Supreme Court nominee Brett Kavanaugh. Particularly the allegations of sexual assault made against him, which came to light earlier this month, according to NPR. The Senate Judiciary committee is wasting no time in investigating the allegations, which Kavanaugh has denied, and has called on the SCOTUS nominee's accuser to personally appear. So when will Professor Christine Blasey Ford testify?
According to CNN, an attorney for Kavanaugh's accuser said on Thursday that she's willing to do so soon. Though a specific time has not been hammered out yet, indications are that Ford could appear sometime next week, according to an email sent from her lawyer to the committee, which was obtained by The New York Times. The letter comes a day before the 10 a.m. Friday deadline set by Senate Judiciary Chairman Chuck Grassley for Ford to decide whether she was going to testify before the committee, according to CNN.
In the letter Ford's attorney, Debra Katz, affirmed Ford's desire to meet, but advised them of circumstances affecting Ford's decision. "I would like to set up a call with you later today to discuss the conditions under which Dr. Christine Blasey Ford would be prepared to testify next week," Katz wrote, according to The New York Times.
The committee had previously called on Ford to appear Monday and testify, according to Fox News, but Ford had requested that there be an FBI investigation into the allegations against Kavanaugh prior to any appearance before the committee.
In Thursday's email, Katz called a Monday hearing "arbitrary in any event" and said that holding the hearing on that date would not be possible, according to the New York Times. She outlined some of the trouble Ford has been experiencing since her name was make public. "As you are aware, she has been receiving death threats, which have been reported to the Federal Bureau of Investigation, and she and her family have been forced out of their home. She wishes to testify, provide that we can agree on terms that are fair and which ensure her safety," Katz wrote, as the New York Times reported.
As CNN reported, she also restated Ford's earlier request for an investigation: "Dr. Ford has asked me to let you know that she appreciates the various options you have suggested. Her strong preference continues to be for the Senate Judiciary Committee to allow for a full investigation prior to her testimony."
While the two sides are negotiating their schedules, committee members are also trying to determine who they will have question Ford. The Republican side of the committee is comprised entirely of men, and are concerned about the appearance of an all-male panel questioning Ford, according to HuffPost. The idea of hiring outside counsel experienced with questioning assault victims has reportedly been discussed, as well as having female staffers or even Kavanaugh's attorney pose the questions, as HuffPost reported. Judge Grassley has also reportedly offered Ford the option to testify in a closed session of the hearing rather than in public, as Fox News reported.
It's a far cry from the treatment of Anita Hill back in the 1990s, but will justice ultimately be served? Everyone is waiting to see.