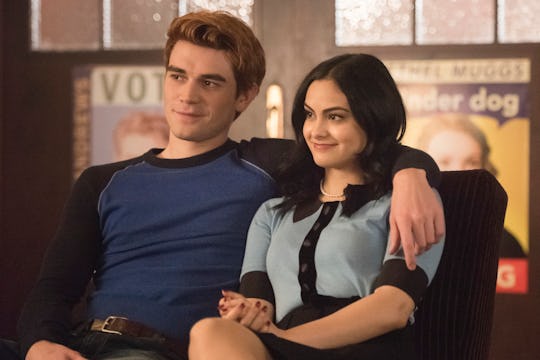 Dean Buscher/The CW
Here's When You Can Expect 'Riverdale' Season 2 To Be On Netflix
I know that we live in an age where marathoning your favorite TV shows is the norm and it's no longer entirely necessary to watch some TV shows live. But for some shows, like Riverdale, I just can't not watch it as it airs. Even so, stuff happens, and you might get far behind. And with the season coming to an end, you're no doubt going to be asking, when will Riverdale Season 2 be on Netflix? A lot has happened this season. As in, so much so that I can hardly believe this is only Season 2 and not Season 3 or 4.
That being said, even if you've watched the entire thing but need to rewatch it all to take it even once more, that's totally understandable. And luckily for Riverdale fans and fans of CW shows in general, the network has a longstanding deal with the streaming platform to have each show's preceding season made available eight days after the finale airs. This means that Riverdale Season 2 will be on Netflix starting on May 24. Like I said, even if you had the time to watch each new episode as it aired on TV, you'll probably need to rewatch everything unfold a few times to keep certain characters and character motives straight.
Riverdale is your textbook CW teen drama, loved by all viewers in the 18-49 demographic because how could you not love the mystery, intrigue, drama, and romance that the show offers? As any dedicated fan will tell you, Season 2 was full of all of the same kinds of ingredients that made the first season so interesting. However, there was admittedly a lot that happened this time around. The Black Hood was killed, but then it was revealed that his true identity was Hal Cooper. Additionally, there appears to be a second Black Hood out there somewhere. Also, Betty's long lost brother came home, but he wasn't who he said he was and may have actually been killed by the Black Hood. Since this is Riverdale we're talking about, though, he could pop up at some point down the line and surprise us all.
Then there was all of that stuff with Hiram and the crime families the Lodges are apparently affiliated with. He went from hating Archie to manipulating him and other high school kids to do his bidding. Obviously he needs to be stopped, but what's Riverdale without a big bad disguised as a citizen of the town? It might be hard to get behind some of these larger than life and sometimes outlandish storylines, but it's also what many fans have come to expect and love about Riverdale.
Even though Season 2 of Riverdale is going to hit Netflix on May 24, and Season 3 is pretty far off still, it does make you wonder what's next for the show and the beloved characters. Much like their predecessors on shows like One Tree Hill and Dawson's Creek, these kids have been through so much already that it's hard to believe what might be next for all of them. Hiram's prison opening is on the horizon, though, which is an event sure to cause problems in town, and the mayoral race is well underway. Whether Fred or Hermione wins, there's sure to be some backlash from the opposing side. Also, like I said, Chic has not been confirmed dead, so don't sleep on him just yet. He could be back again.
Thankfully, Riverdale was renewed for a third season, so we won't have to worry about its return that'll happen sometime in the fall. But given literally everything that went down throughout the course of Season 2, the show obviously deserves another re-watch or two before Season 3 premieres.