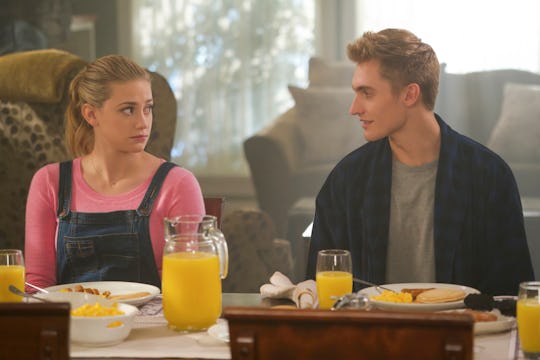 Shane Harvey/The CW
Betty's Brother Will Make A Lasting Impression On 'Riverdale'
If the first half of Riverdale Season 2 was a whirlwind of drama, emotions, and hot makeout sessions between the characters, fans can probably expect more of the same when it returns on Jan. 17. But fans can also expect to finally meet Alice's son, whom she gave up for adoption before Betty or Polly were ever in the picture. But who plays Betty's brother on Riverdale? Hart Denton is sort of a newcomer when it comes to acting, but he seems to be fitting in with his new castmates, at least as far as Instagram is concerned.
We all knew that her long lost brother would have to be as close to the "blonde Adonis" that Veronica predicted back in Season 1 and Denton is pretty close to it. He has blonde hair to match the Cooper women and a smile and eyes that basically make him a Dave Franco look alike, if I'm being honest. But in his case, the 24-year-old's acting career is just getting started, though you wouldn't know it by watching him.
In 2016, Denton was in an episode of the Lethal Weapon TV show and then appeared in the comedy Fun Mom Dinner in 2017. However, Riverdale is only his third role and may be his largest one yet. That is, if Chic Cooper is believed to be sticking around for a while.
Denton's first love when it comes to show business is modeling, and judging by his Instagram posts, it's something he's still pursuing while he acts, so he could be a double threat in the making. Or, like his Riverdale co-star K.J. Apa (Archie), a triple threat, since he seems to be into making music as well. Fans might even see a collaboration between the two actors, since Denton tagged Apa in an Instagram photo of himself working on some music.
Denton wouldn't be the first newbie to the acting world when it comes to Riverdale though, as Apa himself has only been in the business for a few short years and Camila Mendes' (Veronica) first role ever was on Riverdale. So he's definitely in good company. And, it seems, Denton is already part of the family, as he's already bonding well with his co-stars.
Although it's difficult to tell yet what possible romantic love interest Riverdale will give Chic (although I can totally see Cheryl latching onto him, even though they're technically related, so maybe not), in real life Denton may currently be attached. The last photos of himself and his potential girlfriend, model Sunny Soofiani, were from back in April 2016, so maybe they're no longer an item. Or maybe they're just not big fans of posting about it on social media.
Denton hasn't just bonded with his male co-stars though. Lili Reinhart's (Betty) Instagram live videos show him with her and their on-screen mom Mädchen Amick bonding over Chipotle and Stranger Things and seeming like every bit a real family. So it's hard not get excited to see Denton make his first ever appearance on Riverdale this season.
Much like CW or WB shows that came before it, Riverdale has managed to gain a fast following from millions of fans, so much so that even the new actors on the show are now widely known and recognized. Something tells me that Denton will be able to get in on that fame as well, given his important role and the fact that he seems to have already bonded so well with everyone else attached to the series. This might only be his third acting role ever, but Denton more than likely has the talent to pull it off and bring to life the new mysterious Riverdale character.