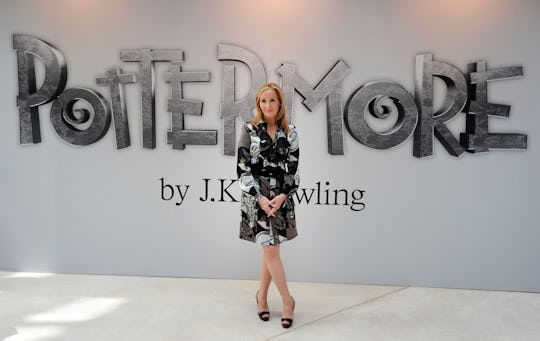 AFP/AFP/Getty Images
When Will The New Harry Potter eBooks Be Released? Fans Won't Have To Wait Long
More Harry Potter books are coming! Sort of. J.K. Rowling and the post-Harry Potter, magical world of Pottermore announced yesterday that three new eBook shorts will be released this fall. The internet can't wait, so when will the new Harry Potter eBooks be released? And what will they be about? Will they have anything to do with The Cursed Child? Or Fantastic Beasts and Where To Find Them?
The books will be released officially on Sept. 7, according to Pottermore, and each of the three books will explore a different Hogwarts theme.
Pottermore Presents is a series of bite-sized eBooks that dig deep into the Harry Potter stories, with titbits taken from Pottermore's archives and original writing from J.K. Rowling. The series offers Harry Potter fans added insights into the stories, settings and characters and were all lovingly curated by Pottermore.
The titles have been released too, and they look pretty amazing:
Hogwarts: An Incomplete and Unreliable Guide will give a history of Hogwarts, including everything from the intricacies of how the Sorting Hat works to a rundown of the ghosts of Hogwarts.
Short Stories from Hogwarts of Power, Politics and Pesky Poltergeists takes a deep dive into dark magic, the horrors of Azkaban and features a brand new piece on Horace Slughorn written by J.K. Rowling.
The last in the series, Short Stories from Hogwarts of Heroism, Hardship and Dangerous Hobbies, features stories about all your favorite Hogwarts staff, including a much-anticipated piece from J.K. Rowling about Minerva McGonagall and the second wizarding war.
There has been some confusion about where the books fall within the rest of the Harry Potter lore. Luckily, when Mic tweeted that we were getting 3 brand new Harry Potter books, Pottermore was quick to clarify:
The eBooks will be available from all major retailers on Sept. 6, in English, French, German, Italian, Japanese, Dutch, Brazilian, Portuguese, and Spanish.
You can pre-order yours from Barnes and Noble, Amazon, Amazon UK, Kobo, and iBooks — or wait for them to be released and get them directly from Pottermore.