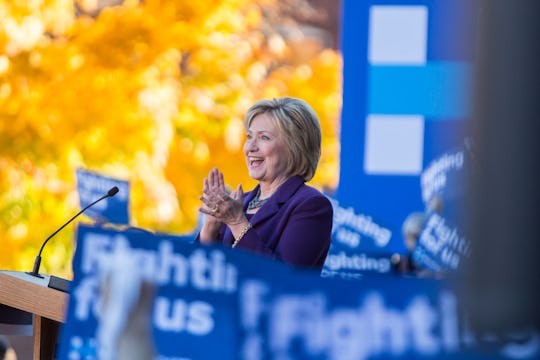 Scott Eisen/Getty Images News
When Will We Hear New Hampshire Results? Thankfully, The Primary Won't Run Too Late
If you were one of the political junkies among who was super frustrated by how slow the Iowa caucus results were to come in last week, you might be wondering, when will we hear the results for the New Hampshire primaries being held on Tuesday? Well, here's a bit of good news for those who want to hit the sack at a reasonable time and also know who will leave the Granite State with the most delegates. The returns in New Hampshire are likely to come in a whole lot sooner than the Iowa caucus results. Why? Iowa's caucus is more complicated than New Hampshire's primary process.
See, the Iowa caucuses, specifically on the Democrat side, are a pretty tedious affair. Instead of a simpler, primary process, where voters goes to their polling place, casts their votes and posse's up outta there, caucuses require Democrats to do this dance of herding into packs for their candidate, determining if there's enough support in an individual precinct and then trying to convince supporters of the "unviable," or candidates with low support, to get behind someone else. It's pretty exciting for political science nerds who love to watch Democracy in action, but for the rest of the country, who just want to know who won already, it can stretch return reporting into the wee hours of the morning. And even after working through the process in last week's caucus, many of the delegates were ultimately assigned by a coin toss.
Tuesday's New Hampshire primary promises to be much more streamlined and straight forward, but still totally exciting. New Hampshire voters are notoriously fickle and tend to wait until the very last minute to decide who they will support, making polling unpredictable. The New Hampshire primary also doesn't require a voter be registered "Democrat" or "Republican" to vote for a primary candidate, giving Independent voters a voice in the elections. And in a year where the electorate is shaping up to favor candidates who are running outside of party politics, Independent voters could turn out in large numbers in New Hampshire.
Nonetheless, the New Hampshire primary voting system doesn't require debating the candidate's credentials or trying to sway anyone else to your side. It's just a simple show up, vote and wait for the results, which should speed up the returns quite a bit compared to Iowa.
New Hampshire's voting process has one quirk that gets the voting process going early: and that's midnight voting. While most polling places in the state are open from 7 a.m. to 7 p.m. on Tuesday, there are a three tiny towns in New Hampshire that open the polls at midnight on Monday: Dixville Notch, Hart's Lovation and Millsfield making them the first to vote in the primary.
What you can expect is that the winners of the New Hampshire primary, especially on the Republican side, are likely to be different from Iowa. In addition to the much larger Independent voter turnout expected in New Hampshire, Iowa's voters are largely evangelical while New Hampshire's are more secular and tend to vote accordingly. So stay tuned and let's hope we can wrap this whole thing up in time to get a decent night's sleep on Tuesday.