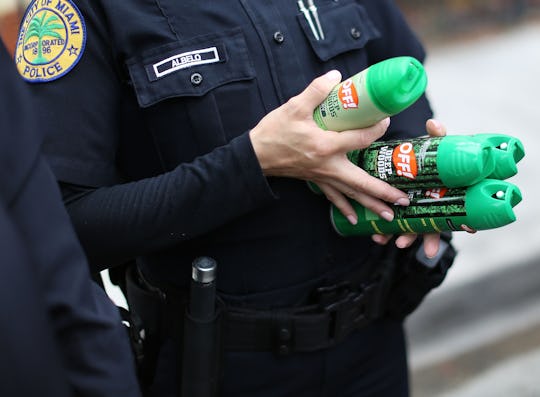 Joe Raedle/Getty Images News/Getty Images
When Will Zika Mosquitoes Arrive In Chicago? The City Is Well Prepared
The number of Zika virus cases in Florida has inspired the state's government to issue a historic travel advisory, urging pregnant women to stay out of Miami. So why has the rest of the U.S. been so slow on the uptake when it comes to defending against the virus? Especially since we now know it's spreading not just through sexual transmission, but mosquitoes — which are endemic to many areas of the country, especially this time of year. What city will it hit next? Could Zika mosquitoes hit Chicago?
Concerns over the virus have even put some Olympians' plans on halt as they debate whether to head to Rio this weekend. Two golfers who elected not to attend the games in Rio are now facing down the virus in their home state.
Florida Sen. Marco Rubio has called for action from Congress to approve more funding for Zika research and prevention measures. It may be that until Zika mosquitoes arrive in Washington D.C., Congress won't make it a priority, at least in part because for most, Zika is not a serious disease.
For pregnant women, however, it's a major concern: the link between Zika and birth defects, specifically microcephaly, is now well-known.
As for how the virus spreads — the big concern now being mosquito transmission — the CDC isn't necessarily afraid of a widespread outbreak. It's more likely that the virus will continue to spread in smaller, enclosed areas: "This is particularly a risk for people who don't have screens or air conditioning and who live in crowded spaces," said Tom Frieden, the director of the CDC, in a recent press conference.
So, cities, right? Apartment living in the city in the summertime can be pain enough without having to worry about disease-carrying mosquitoes. And the residents of Chicago know this well.
The Chicago Tribune reported that the city government has already begun to educate citizens about Zika virus and its transmission, especially expectant parents. "Our priority is to protect pregnant women and their babies," said Melaney Arnold, a state Health Department spokeswoman, in an interview with the Tribune back in June.
This report came before experts knew for sure that mosquitoes would transmit Zika on U.S. soil, but the paper still pointed out that the type of mosquitoes largely responsible for spreading Zika, Aedes aegypti, are not typically found in Chicago. Experts from throughout the state of Illinois have continued to reiterate that the state's population is relatively low risk for a Zika outbreak.
"It would be too glib and wrong to say 'you shouldn't be worried' because that ignores the fact that people are worried," Dr. Nirav D. Shah, director of the Illinois Department of Public Health, told the Chicago Tribune in February, back when the first case of Zika in Chicago was reported.
However, just because the mosquitoes aren't commonly found in Chicago doesn't mean they can't survive there, so the city has actively monitored for them and has taken steps to keep them at bay. City officials have continued to remind locals to use bug spray and make sure they don't have any standing water in their yards — a favorite breeding spot for the insects.
Health officials outside of Chicago are also implementing precautionary measures previously used against West Nile Virus. In general, many state governments feel that their hospitals are much better prepared in the event of an outbreak after the devastating Ebola epidemic in 2014, which forced hospitals worldwide to rethink their policies, procedures and practices around infectious illness.
For now, Chicago has issued the same precautions as the rest of the country: pregnant women should avoid traveling to places where Zika is known to to be present, all pregnant women should be assessed for Zika exposure, and both men and women who have recently traveled to Zika-prone areas should be vigilant about condom use to prevent the spread to a sexual partner.
The Chicago Public Health Department has also created a call line specifically to respond to requests for Zika testing, which have exceeded capacity in the last few weeks.