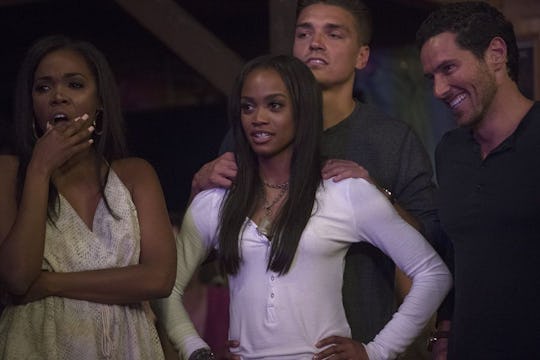 Matt Brown/ABC
Dean From 'The Bachelorette' Has Ambitions Career Aspirations
Rachel's season of The Bachelorette has been full of some of the most educated and put together men of the series so far, which is good since she herself is an accomplished attorney and fans likely want nothing but the best for her. Even the ones like Dean, who you'd swear are male models, have impressive educations and careers going for them. So viewers are no doubt curious about where Dean from Rachel's Bachelorette season went to school.
The contestant graduated from the University of Colorado in Colorado Springs with a Bachelor of Science degree with studies in business administration and management. Although the startup recruiter's college graduation date isn't listed on his LinkedIn profile, he likely graduated within the past few years since he's just 26 years old, making him one of the youngest contestants overall this season. Right now, he lives in Los Angeles, but Dean's hometown is in Aspen where, according to his Instagram, he spent the majority of his life skiing and enjoying the great outdoors.
According to LinkedIn, Dean started working as a recruiter for Apica Systems in Santa Monica in 2016 and it's listed as his first position outside of Colorado, so he likely hasn't been in California for very long. But it seems like he's put down roots in L.A. as the lead recruiter for StartupTAP.
Six years younger than Rachel, Dean might not seem like the most likely guy to win over the Bachelorette's heart. He also made quite the impression as one of the four men who appeared on the After the Final Rose special and delivered the line about wanting to go black and never go back, which left many viewers shaking their heads.
But he's kind of redeemed himself since then and seems to have a sweet and genuine connection with Rachel, so he could still end up surprising us and become a true contender.
Dean's education and career prove that The Bachelorette contestant has what it takes to really commit to Rachel. He uprooted his life to start his career in California. That's a bold move to a make and could very well demonstrate how willing he is to change certain aspects of his life for things he's really passionate about. So perhaps if a certain Bachelorette picks him in the end and asks him to move to Dallas with her, he'd be more than willing to change locations yet again. One thing is for sure — Dean is definitely proving himself to be a legitimate option for Rachel this season.