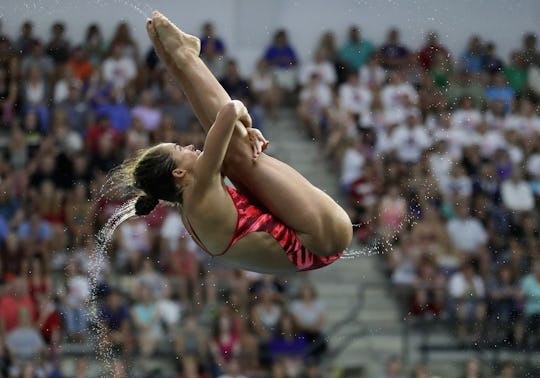 Streeter Lecka/Getty Images Sport/Getty Images
Where Did Kassidy Cook Go To College? The Diver Attends A Popular School For Olympians
Considering all she's achieved by age 21, it would seem like Olympic diver Kassidy Cook could expect to get into just about any college she applied to. When she was just 17, she joined the U.S. Women's Diving team and graduated from The Woodlands High School in Texas in 2013. Where did Kassidy Cook go to college? She's currently attending Stanford University, a top ranked and highly selective college in the U.S.
Stanford actually boasts quite a few notable athletic alumni, including golfers Tiger Woods and Michelle Wie, and Olympians Kerri Walsh Jennings and gymnast Kerri Strug.
In addition to Cook, a few other current Stanford athletes who are competing in Rio have already taken home gold medals: Swimmer Katie Ledecky, an incoming freshman at Stanford, took home her first gold earlier this week. Simone Manuel and Lia Neal competed in the first of several swimming events for the U.S. Women's Team and Stanford alum Maya DiRado took home her first-ever gold medal in the 400-meter individual medley.
Neal is a senior at Stanford, Manuel and Cook are both juniors (and BFFs), and Ledecky will be a freshman this fall, so the Olympians may not have a lot of classes together, but surely they'll see one another poolside while they train.
Cook and Manuel met at Stanford and have been best friends ever since; and both are competing in Rio this year: "From dance parties in Uj to laughing till we cry in hotel hallways, every moment I spend with you is just as fun as the next," Cook wrote in an Instagram post dedicated to Manuel for her birthday last year.
According to Cook's LinkedIn profile, she's majoring in broadcast journalism at Stanford; something she became interested in through her experience training and competing in the Olympics. "Being on the national team has given me exposure to media and that is where my interest in majoring in Communications with an interest in sports journalism/broadcasting started," she wrote in her LinkedIn summary. She added, "I was also a child model for several companies which has taken away any fear of cameras," — probably a good skill to have when you're competing in front of millions of people.
Cook is no stranger to people, though, because she's the youngest of six children. Her family is made up of dad Kevin, a brother named Kevin, sisters Kara, Kelsey, Kylie, and Kendall, and their mom, Laura, who was in the first class of women at West Point.
She's also been rumored to be dating U.K. diver Tom Daley. The two seemed close back at the Olympics in 2012 and it was only after Daley came out in a YouTube video later that year that the media realized the two teens were just friends. Cook hasn't said much about her dating life since, but between training, competing, traveling and school, she probably doesn't have time for much else.
Well, except for her "babies" — she loves her black labs and always makes time for them, especially by the pool.
Cook is slated to graduate from Stanford next year.