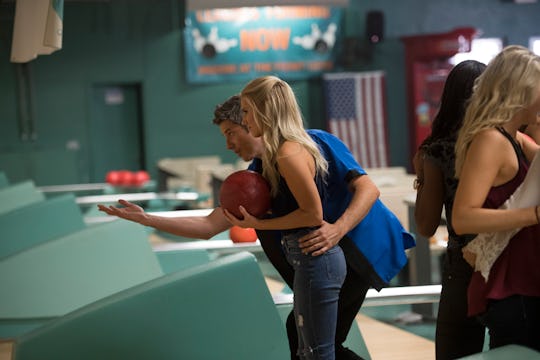 Paul Hebert/ABC
'The Bachelor's Lauren B. Switched Career Paths During College
Lauren B. has been flying under the radar this season on The Bachelor, thanks in part to the fact that she was one of four Laurens at the top of the season. It was virtually impossible to keep them straight, especially with the show leaning heavily into how hilariously confusing it all was, rather than making an effort to differentiate them. But now that she's the last Lauren standing, fans are starting to wonder more about her, like where did Lauren B. from The Bachelor go to school? She actually switched tracks after her first year of college, although she still appears to be very interested in medicine.
Lauren B. currently works in tech sales, but she's dabbled in a lot of interesting work. For instance, according to her LinkedIn profile, she co-founded a home staging and design company and ran it for over a year. But Lauren B.'s first love seems to be medicine. She studied pre-med for a year at Central Washington University in Ellensburg, Washington before transferring to Old Dominion University, a research university initially founded as the Norfolk, VA division of the College of William and Mary. While there, Lauren switched her major to psychology and graduated with a Bachelor of Science degree.
After graduating, Lauren worked in Virginia as a volunteer EMT, where her duties included driving ambulances and acting as a first responder. She also worked as a home health aide for children with special needs, doing everything from helping with homework to teaching them skills like money management, hygiene, nutrition, and exercise practices. She spent nearly five years working with special needs kids and over three years working as an EMT. That's a pretty big time commitment to health services for someone who's only 25, and I would wager that just because she started working in sales upon relocating to the Dallas-Forth Worth area doesn't necessarily mean that she's done with medicine just yet.
Lauren and Arie's relationship first started picking up steam in Week 5, when, during some alone time on a group date, viewers were subjected to watching them ask each other inane questions like "what's your favorite color?" But apparently, learning the minutia of Lauren's daily life (like, for instance, that she takes her coffee with coconut milk) really seems to be doing it for Arie. After a round of 20 questions, he decided to bestow upon her the group date rose for her feats of vulnerability in their one-on-one chat.
Speaking of one-on-ones, Lauren has yet to receive a solo date with Arie and we're already down to the top 10 women from the 29 we started out with. Year after year, hometown dates sneak up on Bachelor Nation, leaving us gasping, "It's hometowns already?" every single season. (We truly never learn.) And every season, there seems to be one person in the final stretch whom we still don't really know all that well. It looks like Lauren B. has huge potential to be that person this season.
Then again, while the relationship seems to be of the slow and steady variety, rather than hot and heavy, it definitely feels like one of the more stable matches. Krystal has already raised red flags for Arie, even though she was the first to meet his family, by throwing a tantrum and calling him a liar. And although he shares intense chemistry with Bekah, Arie has serious doubts about their age difference. It might be that Lauren is exactly the safe option he's looking for, if a little less passionate than the rest.
Check out Romper's new video series, Romper's Doula Diaries:
Watch full episodes of Romper's Doula Diaries on Facebook Watch.