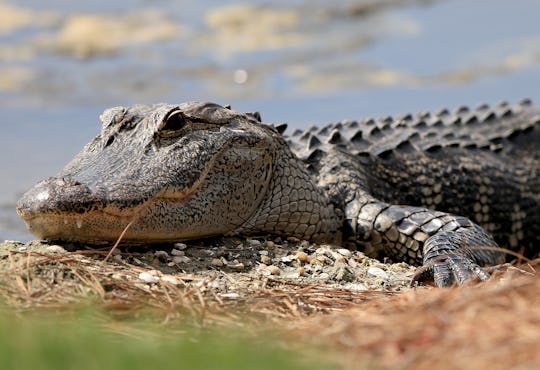 Sam Greenwood/Getty Images Sport/Getty Images
Where Do Alligators Live? They're Basically Everywhere In Florida
After a 2-year-old toddler was attacked by an alligator at Walt Disney World late Tuesday night, the shocking nature of the attack has many wondering just where do alligators live? Pretty much if you're in Florida and there's water anywhere, there's basically a 99 percent chance it has one or more gators in it. That's not being snarky, either — the Florida Fish and Wildlife Conservation Commission estimated there are as many as 1.3 million alligators in Florida. Alligators are found in all 67 counties in the Sunshine State, too. That's... a lot of alligators.
Perhaps the most chilling warning the FWC has made for all residents of and visitors to Florida is "Do assume there are alligators in every area of freshwater." Alligators are massive reptiles that can grow up to 10 feet in length, and weigh as much as 500 pounds. The American alligator, found across the entire southeastern region of the United States, prefers freshwater and brackish bodies of water, including: Lakes, rivers, streams, ponds, swamps, and marshes. As a result, the FWC receives as many as 16,000 alligator-related complaints a year from residents. If you haven't yet gotten the hint: Alligators are basically everywhere in Florida.
In the wake of Tuesday night's awful event, Disney World closed all of its resort beaches on Wednesday. Frighteningly, wildlife officials discovered four more alligators in the Seven Seas Lagoon, near the area where the 2-year-old was pulled under the water. The toddler has yet to be found by authorities and wildlife officials.
Disney World has six major beaches and beach areas across its more than 25 resorts on the Walt Disney World property in Orlando, Florida. Guests can lounge on pristine, white sand beaches everywhere from Disney's Beach Club Resort to Clementine Beach at Fort Wilderness. The Grand Floridian, on the banks of the Seven Seas Lagoon, is one of Walt Disney World's most lavish resorts. There are many rivers, streams, and other waterways that meander through the 40 square miles of Disney World property, along with several other small ponds and lakes.
Given the alligator's propensity for pretty much any body of water in Florida, Disney World is not immune: There are no fences or barricades to keep the gators out. Visitors have seen and even filmed encounters with alligators at Disney World, but nothing this serious has ever happened in almost 30 years. In 1986, a third-grader was bitten in the leg by an alligator in a pond near the Fort Wilderness campgrounds.