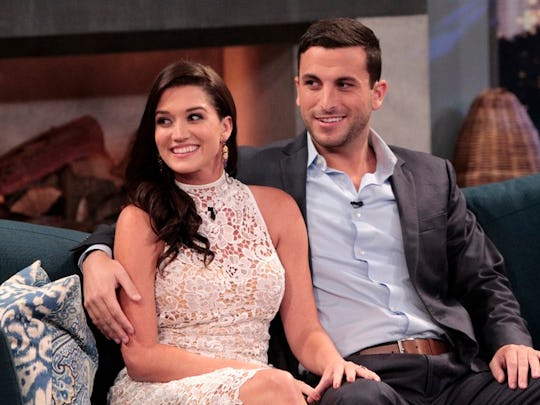 Rick Rowell/ABC
Where Do Jade & Tanner Live? The 'Bachelor In Paradise' Couple Are Building Their Own Home
Although we get several weeks worth of footage from Bachelor in Paradise, the truth is, the show only takes about three weeks or so to shoot. In that time, the contestants are expected to form relationships and bonds that last beyond the show. It's totally east to scoff and say you aren't buying it, but Jade and Tanner of Season 2 proved that it's entirely possible to find love on Bachelor in Paradise. So where do Jade and Tanner live now? When the couple got engaged and then married, they embarked on another adventure of having their own home built from scratch in Kansas, which is where the newly married Bachelor in Paradise couple currently resides. While construction is still in progress on their dream home, the couple are close by to keep on eye on the process.
Falling in love on Bachelor in Paradise is one thing, but to be able to carry that into real life and build something totally real is kind of amazing. And when Jade and Tanner actually stayed together when the cameras stopped rolling, it made you believe in love again. At least, in the world of The Bachelor and The Bachelorette.
Like I said, three weeks is hardly enough time to do what you need to do to fall in legit love — especially with all of the obstacles that you face on a show like Bachelor in Paradise, where you hope that someone isn't going to request a date with your current main squeeze, or that they won't be found in a hot tub with someone else. But when Jade Roper and Tanner Tolbert fell in love last season on Bachelor in Paradise you had to love them. Like, a lot.
Shortly after the couple got married earlier this year, they talked to Bustle about their plans for a future home and revealed that they'd purchased four and a half acres to have their dream home built on and to wrangle in some horses to fill up the property. Recently, they finally broke ground on what will be an obviously massive and totally impressive house that will probably be a lot more than your typical Kansas ranch house.
On Tuesday's episode of Bachelor in Paradise, the contestants are set to meet with Jade and Tanner to hear their story and get a renewed sense of purpose on the show. Which is probably necessary for any of the couples currently on the outs or the contestants who are currently still bopping along, watching couples make out like a bunch of voyeurs.