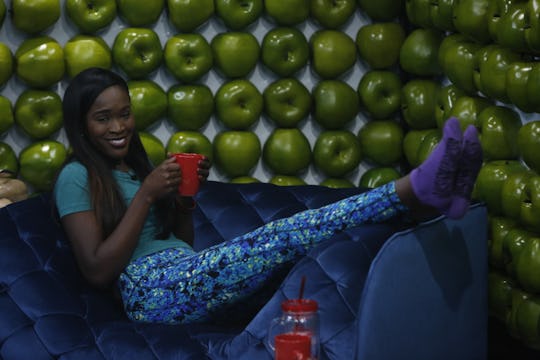 Monty Brinton/CBS
Dominique's Job Outside 'Big Brother' Is Very Impressive
Whether you love or hate Dominique at this point in the game, one thing about her that's for sure is that she worked hard to play a good social game before things got to this point. And that's got to come from somewhere, so out in the real world, where does Dominique work? The Big Brother 19 houseguest hasn't talked about her personal life too much and the biggest aspect of her interests that we know of is her devotion to her religion.
Surprisingly, Dominique's job outside of Big Brother 19 has a lot more to do with science than anything else. Since July 2010, Dominique has worked as program manager for the U.S. Federal Government. Even though her LinkedIn profile doesn't go into detail what that job entails exactly, we do know that overall, she's a nuclear engineer. So if playing Big Brother is as hard as, say, rocket science, chances are she can figure it out. It's most most likely all of the "snakey" behavior and sneakiness that caught her off guard, as it would anyone who's never been on Big Brother before.
From January 2013 to January 2014, Dominique also worked as a lead systems engineer for the U.S. Marine Corps, so she's kind of a big deal. But the fact that she doesn't brag about her career or experience shows how humble and really, smart, the Big Brother 19 houseguest is when it comes to the game. Of course she also somehow found herself on the block for Thursday's eviction, but that's beside the point.
Dominique's job outside of Big Brother 19 doesn't stop there though. In addition to working as an engineer and having her M.S. in electrical engineering, Dominique is also works with Seventh Halo International, Inc. as a motivational speaker. In fact, as recently as March 29, Dominique posted a motivational video on her YouTube channel, urging others to work to their full potential for themselves. It kind of makes sense, then, that she's been running that faux talk show on the live feeds.
Right now, Dominique has found herself as one of the main targets up on the block for eviction, but because this is Big Brother and there are always going to be those twists that fans love so much, she just might be able to skirt by another week of the Halting Hex is hers or at least works in her favor.