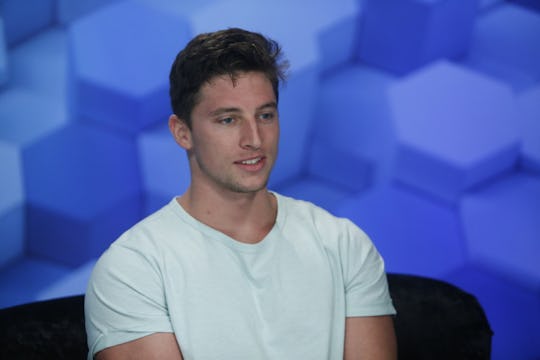 Sonja Flemming/CBS
Brett Robinson On 'Big Brother' Traveled Far From Home To Play This Season
Regardless of the game you play, if you've done anything on Big Brother to call attention to yourself, you could go down as a memorable houseguest. I'm not sure how many people will remember Brett Robinson three seasons from now, but the other half of the resident bromance has proven to be surprisingly entertaining so far this season. So where is Brett Robinson from on Big Brother and will his bromance with Winston Hayes last beyond the confines of the soundstage house?
OK, I'm sure no one is really all that concerned about their friendship withstanding time and distance, but while other houseguests have been getting into heavy game play, it's been refreshing and fun to watch Winston and Brett joke around and become fast BFFs. In a house where things can get heated and backstabbing is the norm, that's the kind of side alliance we all need.
Outside of Big Brother, Brett is from Oakdale, Connecticut and currently resides in Charlestown, Massachusetts. So he doesn't live far from his hometown and has managed to make a career for himself as a cyber security engineer. Despite his stated plan to use his career to his advantage as described in his preseason interview, I haven't seen much legitimate gameplay from Brett — though that can change at any time.
Brett hasn't won any competitions yet and he may not be in a position of power, but he has managed to align himself with Level 6, a fairly powerful alliance right now. And his bromance, or "broliance," with Winston might be used to his advantage. They've quickly become the resident bros of the house and since they're also aware of that and totally own it, it works for them.
Outside of the house, I have no doubt in my mind that Brett is the same exact guy we've seen on Big Brother so far this season. He might work in technology and be super smart, but as he said in his video package on the Big Brother season premiere, he doesn't associate with the stereotypical "nerds" of the tech world. As seen in the Big Brother feeds, he's all about hitting the gym and trying to make leg day a priority. You know, like a bro does.
There's no sure way to know what Brett is like outside of the Big Brother house and back home because he doesn't seem to have any public or searchable social media pages. But judging from his pre-show interviews and the fact that so far he's seems like he's being himself more than playing everyone — except for the reveal of his profession of course — he doesn't seem to be playing a part.
At the very least, if Brett truly is just being himself, having fun with Winston, and making his mark as one half of the first solid bromance of the season, then he's making his time in the house and away from home worth it for himself. But pretty soon, he's going to have to step up his game if he wants to stay in the house and not be sent packing back to Massachusetts.
Now that Brett's best friend in the house is up on the block and Brett will have to vote against literally anyone else up on the block with him, it's only a matter of time before clearer lines are drawn and these alliances start shifting in a major way. All we can do is hope that for his sake, the Boston cyber security engineer will have the foresight to be on the winning side of the house.