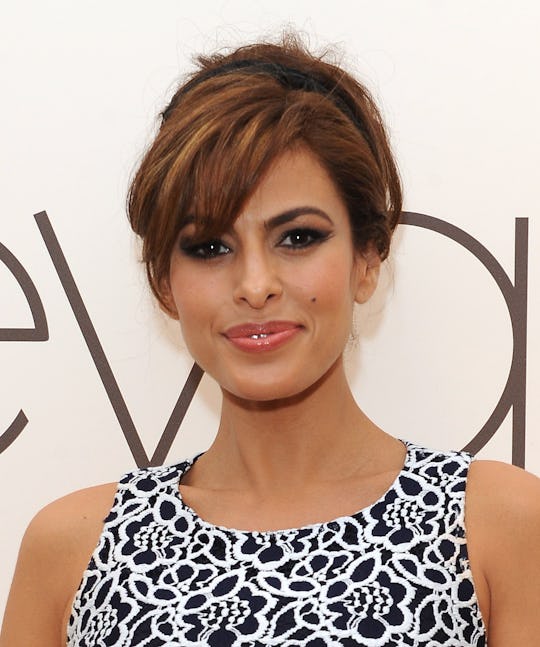 Angela Weiss/Getty Images Entertainment/Getty Images
Eva Mendes Is MIA At The Golden Globes
At the Golden Globes, the Ryan Gosling and Emma Stone-helmed La La Land has been a popular movie of the night and during Gosling's acceptance speech for his Golden Globe award, he mentioned his wife quite a bit, but she was nowhere to be found at the awards show. So where is Eva Mendes at the 2017 Golden Globes? Ryan Gosling gave her a heartwarming shoutout during his speech and boyfriends and husbands everywhere realized that they have to step it up. Gosling said that during the time when he was filming La La Land, his wife Mendes was stepping it up two-fold at home, taking care of her brother, who'd lost his battle with cancer on April 17 and then their two little girls, one of whom was born shortly after her brother's death.
In Gosling's speech at the Golden Globes, he said:
While I was singing and dancing and playing piano and having one of the best experiences I've ever had on a film, my lady was raising out daughter, pregnant with our second, and trying to help her brother fight his battle with cancer. If she hadn't of taken all that on so that I could have this experience, there would surely be someone else up here other than me today. So, sweetheart, thank you. To my daughters, Amada and Esmeralda, I love you. And if I may, I'd like to dedicate this to the memory of her brother, Juan Carlos Mendes.
Not only was he quick to applaud his wife's sacrifice so that he could be part of arguably one of the biggest movies of the night at the Golden Globes, but Gosling also dedicated his award to her late brother. So where was Mendes the night of the Golden Globes? As a family without a nanny, according to Entertainment Tonight, Mendes and Gosling obviously had an agreement that the recently pregnant mother of their second child stay home. And having recently lost her brother, that loss may be another reason why the actress chose to stay home instead of attending the 2017 Golden Globes.
Since Gosling, as well as the movie itself, La La Land, is up for so many different Golden Globe awards, there is obviously an important reason why Mendes couldn't be there and judging by Gosling speech at the Golden Globes, he more than understands why his wife isn't there. They're basically the best example of relationship goals at this point.