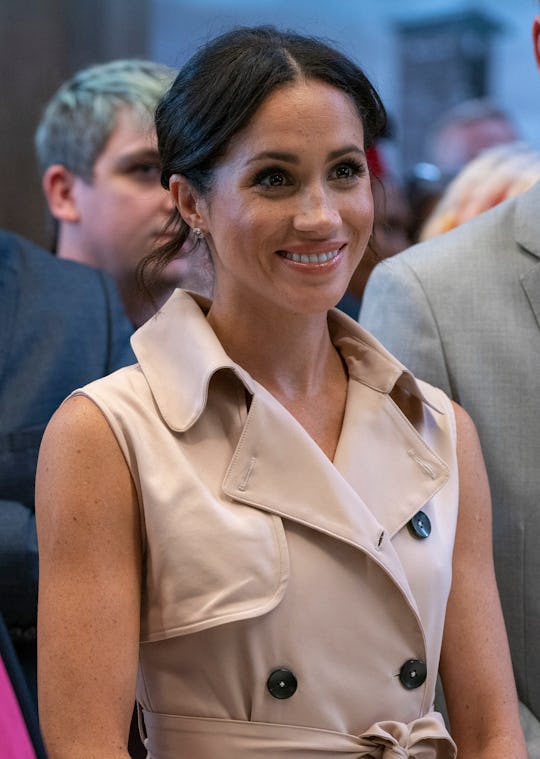 WPA Pool/Getty Images Entertainment/Getty Images
Meghan Markle Has Officially Moved On From 'Suits'
Marrying into the royal family has its perks. If you're Meghan Markle, Duchess of Sussex, then you get a brand new title and a place at the queen's table. But you also have to leave some things behind, like your birth country and, for Meghan, her job. So where is Meghan Markle now and what is the former Suits star doing now that the wedding is behind her and Prince Harry, Duke of Sussex? Fans of the long running USA legal drama have spent the past seven years watching Meghan grace the small screen with her presence, but for this season and for the foreseeable future, she's no longer part of the show.
Now, Meghan has a lifetime of charitable duties ahead of her — but it's not like she wasn't already an advocate for women's health and lower income children before she married into the royal family. In 2017, she wrote an article for TIME about women in Delhi and Mumbai, whom she'd visited on behalf of World Vision, and their lack of resources regarding tampons and pads. Before that, in 2016, she wrote an article for Elle UK about her experiences working with the United Nations and UN Women specifically. So while dedicating her entire life to charitable work might be something new for Meghan, working on important causes has always been a part of her life.
Royal historian Carolyn Harris explained to Today that marrying into the royal family comes with a lot of adjustments for someone with zero experience of royal life. "When you marry into the royal family, it's very difficult to maintain an outside career," she said. And since the duchess officially gave up her acting career and Suits to move overseas and live her life as a devoted royal, she, too, chose to give up her outside career.
"As the queen continues to get older, especially since Prince Philip has retired from public life, Harry and Meghan are going to be very busy with royal engagements and in demand in terms of charity events and Commonwealth tours," Harris added.
Like Kate Middleton, Duchess of Cambridge, Meghan has joined both Harry and Prince William, Duke of Cambridge in their efforts to work on the Royal Foundation. The foundation, which was set up by Harry and William in 2009, is dedicated to using resources to aid and raise awareness for a number of different causes, including cyberbullying, the prevention of youth violence, and mental health. Now that Meghan has put acting behind her, most of her free time will likely be spent working on such causes with the rest of the royal family and traveling in order to do so, along with Harry.
Although acting was obviously a huge part of Meghan's life for well, the majority of her life so far, it's a thing of the past for her, and she'll still be able to work on causes that are most important to her. "I expect Meghan to hit the ground running in areas such as female empowerment, especially as her commitment to feminism is mentioned on the palace website," royal expert Richard Fitzwilliams told Express.co.uk. "Expect her to choose fewer causes than some of the other royals but to be more hands-on and to have an incredible global reach as a senior member of the royal family. As someone who identifies as biracial she is ideally placed to champion diversity which she undoubtedly will."
Meghan may have given up her career in the name of love and joining the royal family, but she's still going to be using her name and her talents to make a huge difference in the world.