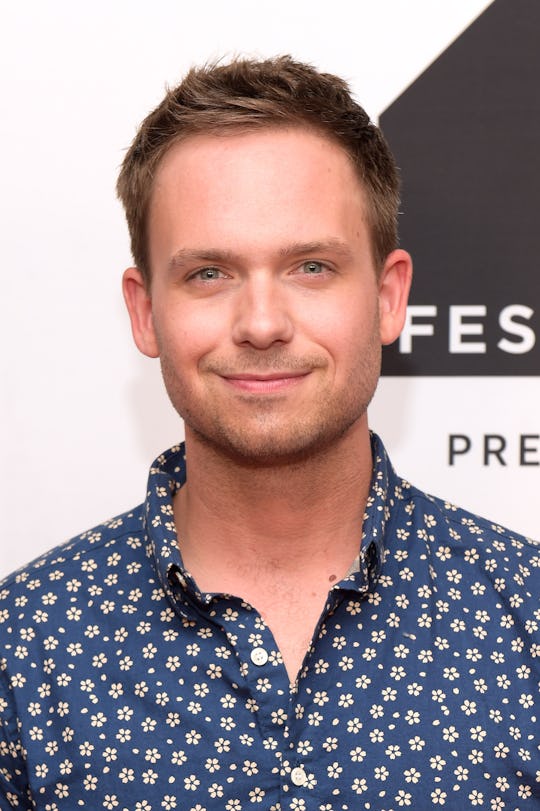 Jason Kempin/Getty Images Entertainment/Getty Images
Patrick J. Adams Is Officially No Longer Part Of 'Suits'
Suits has been on for seven long seasons and now going into its eighth, you might be wondering where Patrick J. Adams is on Suits this season. We all knew well in advance that Meghan Markle, Duchess of Sussex wouldn't be returning to reprise her role as Rachel. But if that wasn't enough, we now have to come to terms with the fact that her on-screen husband has also said farewell to the show. So why did Adams have to leave as well? Couldn't he have continued on in a part-time capacity, present to explain the absence of Rachel anytime another character questioned her whereabouts?
The short answer is no, he could not, and Adams seems pretty content about moving on from the show, even if he remains close to his former co-stars. He told The Hollywood Reporter that, as sad as it may have been to say, it was just time for him to move on from his character, Mike, who'd achieved so much throughout the series that there really wasn't much else to do with him. Does that make it any easier to come to terms with losing Adams and Meghan at the same exact time? Absolutely not. But as the show moves forward, I have faith that the story arcs of the other characters will be as satisfying and full as Mike's was.
Adams told The Hollywood Reporter in the same interview:
As we were starting to talk about renegotiating contracts [for Season 8 and beyond], I took a moment. Everybody was going full steam ahead and I stopped and said, 'We need to think about this because this is more of my time and more of my life — and what's the story left to tell?' When I looked at the work I was doing, Mike would become a full-fledged, certified, legal on paper lawyer. That's a long way from when we met him and he was this brilliant burnout pothead with no real prospects. I thought we'd come so far and now Mike is going to work to be a lawyer and he's engaged to the woman of his dreams and he's got the means and opportunity to do whatever he can imagine.
So instead of dragging on the character's story, Adams and series creator Aaron Josh decided together that it was the right time to say goodbye. After so many seasons of watching a character grow so much and become someone great, at some point, it's just time to end it. And since the series wasn't ending with Season 7, Adams made the choice to end his character's time on the show.
I think it was also just a mere coincidence that Meghan's exit from Suits timed so well with Adams' own decision to leave. He said that they both had this unspoken agreement that their characters, both together and apart, had come as far as they could and that Season 7 would be the end for them both. Instead of hurrying into another show or another project at all, Adams told The Hollywood Reporter that for right now, he plans to take a break from acting. After spending seven seasons on Suits, he plans to take his time in choosing his next role. He did, however, recently sign with a new talent agency, ICM Partners, so he definitely hasn't left the business, but instead as taken a much needed and well deserved break.
I think it's safe to say that fans should never say never when it comes to the possibility of Adams returning for a quick cameo somewhere down the line. But for now, like Meghan, Adams has moved on from Suits and onto another exciting chapter of his life.