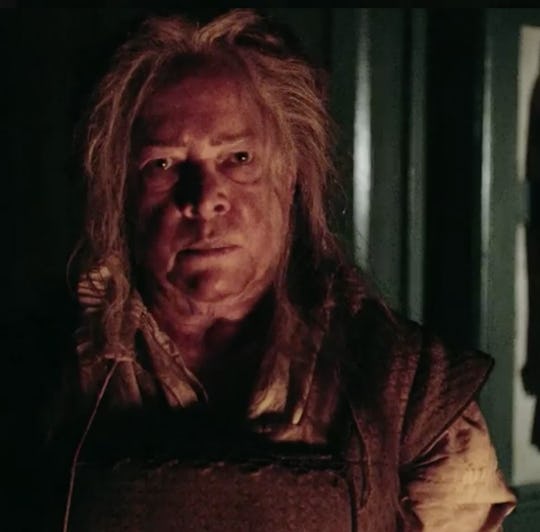 FX
Where Is Roanoke From 'American Horror Story'? The Town Is Inspired By The Lost Colony
When American Horror Story: Roanoke premiered Wednesday night, what followed were the requisite questions about every aspect of the new season, but that was to be expected. For a season that began after months of cryptic promos that gave us very little to go on, we were given a season premiere that was as informative as it was truly scary. But where is Roanoke in real life? In the show, Matt and Shelby move into their dream farmhouse home in Roanoke, but they also say they move to North Carolina and the former colony of Roanoke was actually in North Carolina, where the Outer Banks are today, but the city of Roanoke is in Virginia. So, what gives?
The town used in American Horror Story: Roanoke refers to the small colony where, in the late 1500s, a large group of English settlers landed and began to set up their village. But in the show, it's obvious that the house Matt and Shelby move into is in the country, rather than off the coast, near stretches of ocean and beaches. The actual city of Roanoke today is in Virginia, but the place that American Horror Story: Roanoke is taking inspiration from is the colony in North Carolina that was abandoned centuries ago.
In the late 1500s, a group of more than 100 English settlers found the area in North Carolina that is now a string of land called the Outer Banks and settled there to set up their village of Roanoke. When the town's governor, John White, left for England to gather more supplies, he was swept up in the war that broke out along England's coast and didn't return to America for another three years. When he finally did make his way back to Roanoke, all of the settlers were gone, leaving behind the word "CROATOAN" carved into a wooden post. Croatoan is also said to be the name of a Native American tribe who'd inhabited a nearby island, and one of the theories is that they'd invaded Roanoke and either slaughtered or captured the villagers in White's absence.
But, understandably, the residents of the actual city of Roanoke, Virginia, seem a little concerned about the misunderstanding that comes along with fans believing Roanoke, Virginia to be the same Lost Colony of Roanoke of American Horror Story: Roanoke.
Something tells me that fans of Season 6 of American Horror Story are going to want to pack up their cars and take a road trip to Roanoke, Virginia to learn more about the story behind American Horror Story: Roanoke, but other than giving the Virginia town some tourist revenue, they're going to be sadly let down, since the actual Roanoke the season is drawing inspiration from is in what is now known as Dare County in North Carolina.
On a map, they're actually pretty close to each other, but American Horror Story is just using Roanoke to place Shelby and Matt in the area where the Lost Colony is believed to have been, and not the actual city in present-day Virginia.