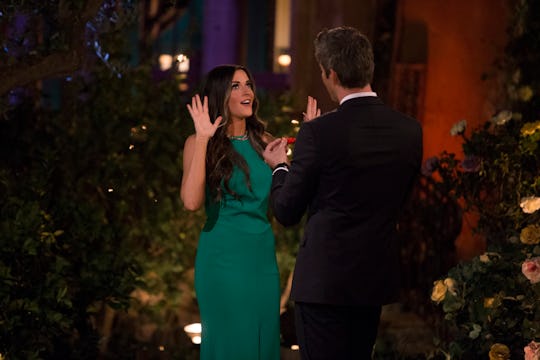 Paul Hebert/ABC
'Bachelor' Fans Will Definitely Be Interested In Tia's Hometown
I would never judge any of the women of The Bachelor based on where they're from or where they live, but it's still hard not to giggle a little bit at the sound of Tia Booth's hometown, which is a small city in Arkansas called Weiner. If you have an immature streak like me, it's difficult not to be 12 years old again when you hear it, but it also makes you wonder, where exactly is Weiner, Arkansas? Tia's hometown on The Bachelor proves that she's definitely the small town girl this season, but that is in no way a bad thing. In fact, it's proven quite well for contestants in the past.
Last season, Raven Gates was also a small town Arkansas girl who managed to make it to the final two and steal millions of fans' hearts in the process. So since Raven is apparently Tia's BFF, maybe it runs in the friendship family. Or, there's something in the water in Arkansas that makes these women stiff competition when it comes to The Bachelor.
According to City-Data.com, Weiner's population as of 2014 was 696, with all of them being rural residents, as in farmland in all directions. The small town itself is in the northeast region of Arkansas, a few hours from both the Tennessee and Missouri borders, and about 40 minutes from Raven's hometown of Hoxie, Arkansas, making it easy for the BFFs to get together as often as possible.
Though to give you a better idea of where Weiner is located exactly, it's less than a half hour away from Jonesboro, which is one of the more populated cities in the state.
At the moment, most of Tia's social media accounts are deactivated or private, but on Raven's Instagram, the former Bachelor and Bachelor in Paradise contestant referred to Tia as her BFF and announced how excited she was to pass the "Bachelor baton" over to her.
When Raven competed for roses and time with the former Bachelor last season, she was never really part of the drama, but made her time with Nick Viall worth it with each interaction and date they had together. She seemed to quickly make an impression on him, since she slid through each rose ceremony easily and kept her eye on the whole reason that most of these contestants agree to go on these shows — to fall in love.
If the apple doesn't fall far from the small town southern girl tree, then maybe Tia will make a similar impact on The Bachelor Season 22's Arie Luyendyk Jr. It also doesn't hurt that she was probably given some useful advice from Raven before leaving home and heading for the Bachelor Mansion for several grueling weeks of date cards, roses, and diary room entries. Though I don't know if anything can really truly prepare you for all the drama that is bound to come your way on a dating series like this.
Since Weiner is in the northeastern part of Arkansas, it's even further from Arie's home state of Arizona than if she was closer to the western part of Arkansas, but if Tia and Arie really hit it off this season, something tells me that they won't let a few measly state lines keep them apart. But honestly, I just can't wait for all of the weird and awkward puns about Tia's hometown if she makes it as far as the hometown dates toward the end of the season. I'll try to keep my giggling to a minimum.
Check out Romper's new video series, Romper's Doula Diaries:
Watch full episodes of Romper's Doula Diaries on Facebook Watch.