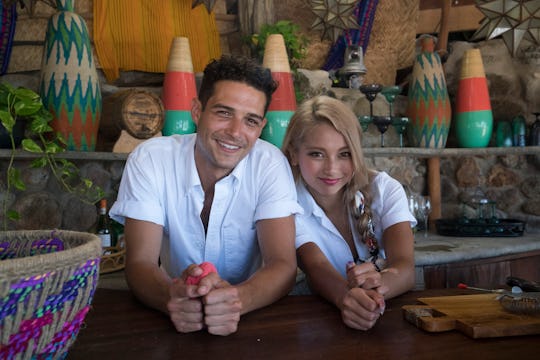 Paul Hebert/ABC
Yuki Still Needs To Make Her Entrance On 'BIP' This Season
If you didn't catch The Bachelor Winter Games, then you may not be familiar with Yuki Kimura, who was also a contestant on The Bachelor Japan. But if you did watch, then you probably fell in love with her like literally everyone else. So when she appeared in the promo for Bachelor in Paradise, fans were understandably excited to see here again. She wasn't in the season premiere, however, which led viewers to wonder where Yuki is on Bachelor in Paradise.
The preview for Season 5 showed a brief clip of Yuki as a bartender along with Wells Adams, who returned for a second season as the bartender and advice giver of Paradise. But unlike Wells, Yuki isn't in the intro for the show this season and she hasn't been featured or even mentioned just yet, so what gives?
The easiest answer is that the filming schedule may not have allowed for her to be there on time like Wells. But if I had to guess, I would imagine that viewers could expect Yuki to make her grand — and probably totally charming — entrance in week two.
On Yuki's Instagram, her posts went dormant on June 4 and she returned to social media on June 29. I don't know if she had her cell phone taken away like the contestants on Bachelor in Paradise, but if it's any indication of her filming schedule, then she likely showed up at the resort the second week. She hasn't said why she wasn't in the season premiere, but I would imagine that it could have been a combination of things.
To be honest, there's already so much going on for the first episode that waiting on Yuki's entrance was probably for the best. I don't know if anyone could really overshadow Yuki, but there were quite a few notable Bachelor and Bachelorette contestants who showed up on night one. If Yuki was also there for the first time, she could have been almost overlooked. And nobody puts Yuki in the corner.
We do know for sure that Yuki is a part of Bachelor in Paradise Season 5, though. Not only was she in the promo for the season, but Chris Harrison mentioned her way back in May when he spoke to People at the ABC Upfronts party. "I have one word for you — Yuki," he said. "I'm not saying she's on Paradise, because I can't announce something like that, but I will say you might see Yuki."
Judging by the promo, we now know that Yuki is going to be on Bachelor in Paradise this season. It's simply a matter of when she'll show up, though I can't imagine it will be much longer. As far as where Yuki can go from here in The Bachelor franchise as a whole, I would say that there's plenty of potential there. Her English may be limited, but there have been multiple international Bachelor stars who have appeared on different shows around the world. Like Jared Haibon who appeared on Bachelor in Paradise Australia and Kevin Wendt, who's from The Bachelor Canada but also on Bachelor in Paradise this season, Yuki could have a real future in the franchise.
Yuki stole hearts on The Bachelor Winter Games and chances are, she'll continue to do so once she makes her entrance this season on Bachelor in Paradise. Regardless, we need more Yuki each season. That's just a given.