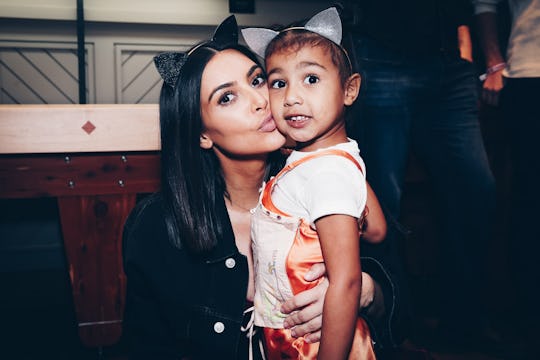 Handout/Getty Images Entertainment/Getty Images
Where To Buy Kim Kardashian's Kids' Clothing
If you thought that Kim Kardashian West was "just" a reality star and cultural icon, think again. Last week, she launched her own kid's clothing line, in collaboration with her husband, fellow designer and musician Kanye West. Anything the Kardashian sisters launch sells out super fast, and finding out where to buy Kardashian West's children's clothing line is just as difficult. The line, called Kids Supply, launched last week exclusively from the eponymous online store, which for now, is the only place to order them. Right now, shoppers have to go directly to the source.
Although the line dropped last week, the items don't ship for another 3-5 weeks. And surprisingly, only some of the Kids Supply items are already sold out. But don't freak out just yet if you were pinching your pennies to save up for the super cute silk, pink sundress — you can add your name to a wishlist for any sold out items and be notified when they're back in stock and ready to ship.
There are some items that may not be so kind to your wallet if you've got a tight budget — like the reversible $240 bomber jacket with a map of Kim's hometown, Calabasas, California on the back. But the logo t-shirts, which West reportedly crafted himself by hand (the logo, not the shirt) are $28, which is not necessarily "cheap" when it comes to kid's clothes, but if you're a hypebeast parent or just a really, really, cool aunt, it's not a totally insane ask for designer clothes.
The sweat pants and hoodies will run you closer to $65, while the logo chokers (just like North wears!) are $22. It's fashion, baby. One can't expect it to be totally affordable all the time.
The entire line is inspired by Kardashian West's hometown, Calabasas, California, and it does have a very laid back feel to it. It's all muted colors and California-style comfy. Sort of like Kardashian West and West's own aesthetic when they're not gracing the red carpet. And very kid-friendly, as long as you don't care if your toddler gets Go-Gurt on their $65 hoodie. It's a personal choice.
Kardashian tweeted, announcing the line:
For the past few years Kanye and I have made almost all of our kids clothes and we have collaborated on a new kids line. All of my friends would ask where we get our kids clothes so now they will be available! Tomorrow's drop is so sick! Just a hint… Calabasas.
So if you've always drooled over Kardashian's Snapchats and just how adorable North and Saint look all the time, it might be worth trying to get your hands on some of these pieces from their new line. Although if you miss this first collection, knowing West and Kardashian West, there will be another drop sometime very soon. You can't stop these two when it comes to their kids and fashion.