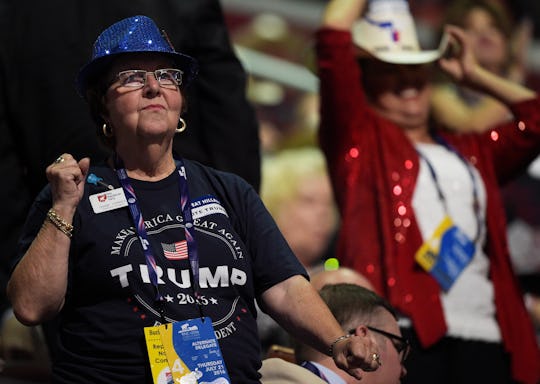 Jeff Swensen/Getty Images News/Getty Images
Where To Buy The 'Make America Great Again' Theme Song, Because Yes, It's a Real Thing
The crowd in Cleveland is getting pumped for the grand finale of the Republican National Convention Thursday night: the moment when Donald Trump will officially accept his party's nomination. Trump's speech already leaked, stealing some of his thunder, but the Republican National Convention House Band isn't letting that stop them from riding the wave of some Trumpisms beloved by conservatives to mark this occasion. Republicans anticipated Trump's address by grooving to the song that's fittingly emblematic of the event, and they're likely to head home wondering where to buy the 'Make America Great Again' theme song, so they can relive the surreal drama of the convention throughout the rest of the campaign season.
G.E. Smith, the former bandleader for Saturday Night Live, leads the RNC House Band, which debuted its "Make America Great Again" song on the final day of the convention. It's a light-rock version of the Trumps campaign's motto and rallying cry. With its covers of songs like AC/DC's "You Shook Me All Night Long" and David Bowie's "Station to Station" — which is totally all about cocaine — the RNC House Band has had excited Republicans literally dancing in the aisles. And "Make American Great Again" has a special significance for Trump fans, but it may not be available for download just yet.
The RNC kicked off with accusations that Trump's wife, Melania, delivered a partly plagiarized speech, and the crowd literally booed former Trump presidential opponent and Texas Sen. Ted Cruz off the state when it became clear he wouldn't endorse Trump during his speech on night three of the convention, themed "Make America First Again." But the RNC band and its new legion of fans going bananas over its over and the debut of its original "Make America Great Again" was almost impressively whacky.
So now that the convention is drawing to a close, what's next for its house band? Will they hit the touring circuit, snagging up some Chris Christie as band manager and Paul Ryan as tour bus driver? Will they morph Trump's campaign into a light-rock musical? Play songs about drugs at the upcoming presidential debates? Or, will they at least make their instantly classic single available for purchase and download, so that that Republicans can forever use it to congratulate themselves for electing Trump their nominee? While we wait to find out, The Los Angeles Times provided a convention playlist, a reminder of the circus that was the RNC. Your move, Democratic National Convention.