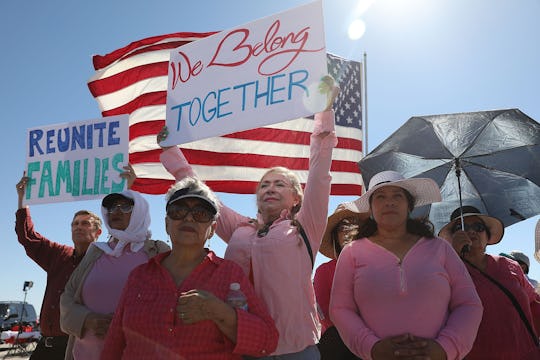 Joe Raedle/Getty Images News/Getty Images
8 Advocacy Organizations You Can Donate To & Help Immigrant Families
Because of the Trump administration's changes to the nation's immigration policies since taking office, immigrants coming to the United States have faced even more hardships than they already did. On June 30, "Families Belong Together" marches to protest these policies will take place all over the country. Marching and volunteering with advocacy organizations are great ways to help, but they require a lot of time, which is not something everyone has to give. Cash is always king, of course, so you'll definitely want to take note of where to donate to help immigrant families in the wake of President Donald Trump's "Zero Tolerance" policy and going forward if you're looking to do so.
Right now, immigrant issues are garnering more attention than usual, thanks to the "Zero Tolerance" policy issued by the administration that previously ordered the Department of Homeland Security and Immigrations and Customs Enforcement to separate families at the border, according to CNBC, even if they were seeking asylum, which is a human right. Because of this criminalization, immigrant kids were being separated from their parents at astonishing rates, as reported by NPR.
Last week, Trump reversed his own policy, according to NPR, and the agencies involved issued a plan to reunite some 2,000 kids with their parents and guardians. But reports indicate that the administration is still particularly hostile to immigrants, whether they have been in the country for decades or are still at the border being processed. Luckily, there are many organizations that are dedicated to helping immigrants. Though they've been tirelessly working with immigrants throughout past administrations, these days many of them are in crisis mode and could use a little boost. Here are some ones to donate to today.
RAICES Bond Fund
The Refugee and Immigrant Center for Education and Legal Services (RAICES) provides free or affordable legal aid to immigrant families, unaccompanied minors, and refugees in the Texas area. It has a family reunification bond that you can donate to so that money will go directly to those helping families find each other or to the organization as a whole to support their other work.
Detained Migrant Solidarity Committee
People being detained by ICE and HHS can face rough conditions and they also have to plead their case in "detained court," which can be very intense, according to The Detained Migrant Solidarity Committee.
The Detained Migrant Solidarity Committee has created a fund to help post bond for immigrants, put money in their commissaries to get things they need and also pay for phone calls to family members and lawyers, so they can get out and return to their lives.
The Las Americas Immigrant Advocacy Center
The Las Americas Immigrant Advocacy Center is a nonprofit that provides legal aid to immigrants who otherwise can't afford it. It works directly in the El Paso area, but as its one of the highest entry ports, according to the site, you're really helping immigrants from all over the world. It writes on its website:
Las Americas has served over 26,000 people over the past 31 years. We have served clients from over 60 countries. We have successfully helped with the release of approximately 45 people from detention since 2014 and we want to do even more.
The Florence Project
The Florence Project provides legal aid to immigrants in Arizona. Because the United States doesn't provide legal counsel to people for immigration matters, 86 percent of detained people don't have legal representation, according to The Florence Project's website.
"The Florence Project strives to address this inequity both locally and nationally through direct service, partnerships with the community, and advocacy and outreach efforts," as explained on its website.
The Texas Civil Rights Project
The Texas Civil Rights Project provides many services, but in the wake of this new immigration policy, they are working to provide legal aid to families that are separated at the border. It's also interviewing immigrant families to document their experiences and raise awareness about what's happening.
Catholic Charities of the Rio Grande Valley
The Catholic Charities of the Rio Grande Valley (CCRGV) started last year according to the surge of immigrants arriving without a place to stay, according to its website. They've assisted over 25,000 people in just two years, providing "a place for the countless men, women, children, and infant refugees to rest, have a warm meal, a shower, and change into clean clothing as well as receive medicine and other supplies, before continuing onto their journey." They also provide counseling services to immigrant families.
The Black Alliance for Just Immigration
The Black Alliance For Just Immigration (BAJI) helps African Americans and black immigrant communities organize to advocate for racial and social justice. On a local level, offices in New York, Georgia, California, and Arizona build coalitions, initiate campaigns among communities, and train people how to effectively organize.
National Immigration Law Center
The National Immigration Law Center (NILC) provides legal services to low-income immigrants who can't afford them otherwise and also advocates for policy change. If you want a one-stop shop for a donation, this is the place to send your money.
There are also likely organizations in your own community that assist immigrant families and refugees. They likely always need volunteers and donations, but these days, your money will go a lot farther.