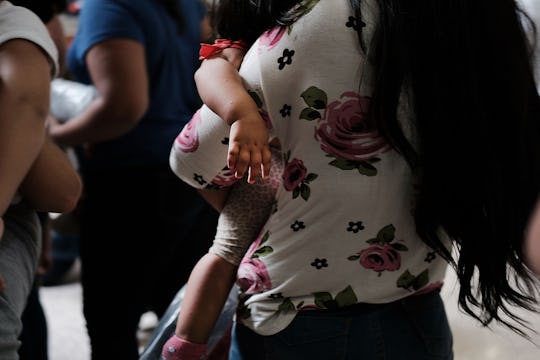 Spencer Platt/Getty Images News/Getty Images
Trump's Plan To Reunite Immigrant Kids With Their Parents Still Doesn't Answer These Concerns
Late Saturday evening, U.S. Customs and Border Protection and the Departments of Homeland Security and Human and Health and Services issued a joint statement about how the three agencies will attempt to reunite families separated at the border under the Trump administration's "Zero Tolerance" immigration initiative. However, the Trump administration's plan to reunite immigrant kids who've been separated from their parents still leaves many questions unanswered and doesn't address some key concerns that advocates have about the well-being of the children in detention centers. The White House, DHS, and HHS did not immediately return Romper's request for comment about these remaining concerns.
First, some background information: After initially being detained and processed by CBP, adults are detained by Immigrations and Customs Enforcement — which is part of the DHS — and children are detained by HHS, according to Vox. Some children are processed through the Office of Refugee Resettlement (ORR) — which is part of the HHS — so you can see that there are a lot of moving parts to the system.
The statement issued by the agencies on Saturday says that the new plan is a "well coordinated" effort among the various agencies and "each entity plays a role in reunification." However, advocates have reported problems with the previous methods of reuniting families over the past few weeks. The new plan does not differ greatly from previous efforts, which raises more concerns about what's happening with children who've been separated from their parents at the border as a result of the Trump administration's immigration policy.
As of this week, as reported in The Washington Post, HHS had 2,053 "separated minors" in its facilities and is "working with relevant agency partners to foster communications and work towards reuniting every minor and every parent or guardian." The agency reported, according to CBS News, that only 17 percent of the children in HHS facilities were placed there because of the Trump administration's Zero Tolerance enforcement and that the remaining 83 percent had arrived to the United States without a parent or guardian. The statement also noted, according to CBS News, that U.S. Customs and Border Protection — the first agency families come into contact with at the border — had already united 522 families affected by the Zero Tolerance initiative.
The New Plan
Going forward, ICE has dedicated the Port Isabel Service Processing Center in Texas as the primary facility for family reunification and removal for adults in its custody. When a parent is ordered to be deported, they will have to request that their child accompany them, according to Saturday's statement.
It's not clear how often parents choose to not have their children be deported with them, though the statement notes that "in the past many parents have elected to be removed without their children." This is likely due to violence and other dangerous circumstances in their home countries that led to them seeking asylum in the United States the first place, as reported by CNN.
The new statement says that there is a central database with both the parents and children's information and that children will be allowed to call their parents or guardian twice a week. Parents who are looking for their child, and to find out whether they are being detained by ORR or HHS, can call a national call center.
If children have information about their family members and can provide it to officials, they will be able to meet with them, barring a background check to confirm that the adult is in fact a parent or guardian, as reported by the Chicago Tribune. ICE has reportedly also created an "identification mechanism to ensure on-going tracking of linked family members," according to The New York Times. Minors are also able to call advocates, family members in their home country or in the United States, and other "appropriate stakeholders," as noted in the HHS policy.
Kids will only be separated from their parents if a familial connection can't be confirmed or if the adult is a criminal. If a parent chooses to not request their kids be detained and then deported with them, or if the agencies decide that the adult with the child is not a parent or is a criminal, the child will be placed with a family member in the United States or in foster care, according to HHS guidelines. Although the agencies have laid out this new plan, there are still these three major concerns about how it will all play out.
1. Will Asylum-Seekers Be Criminalized?
Seeking asylum has never been a crime. In fact, it is a human right, according to The Washington Post. To seek asylum, one has to prove that they are being persecuted based on their "race, religious beliefs, nationality, political views," or if they belong to a "particular social group."
Previously, you would be able to enter the country and apply for asylum within one year of entry. Cases are heard by the Board of Immigration Appeals, the highest authority on immigration cases. Now, the Trump administration is reportedly treating anyone who attempts to enter the country without proper documentation as a criminal, before they can even request to apply for asylum, as reported by The Dallas News
"People arriving at the border have been victims of gang violence and abuse, only to be treated now like criminals by US authorities," Jason Cone, executive director of Doctors Without Borders, said in a news release earlier this month. "The Trump Administration is demonizing vulnerable people who most need protection and care, and by doing so is joining the ranks of the very abusers our patients are fleeing."
However, the Trump administration's Zero Tolerance policy and other policies have essentially criminalized those seeking asylum from persecution, according to The Hill, which is why kids were being separated from their parents to begin with over the course of the past few months. Romper's request for comment from the White House, DHS, and HHS regarding the Zero Tolerance policy was not immediately returned.
This new plan, along with the executive order President Donald Trump signed Wednesday reversing his administration's own policy of separating families, does not make clear whether or not families seeking asylum will continue to be criminalized. Once they're considered a criminal, they cannot be reunited with their families, according to Saturday's statement.
2. What Happens To Kids Already Separated?
The new plan does not specify what exactly will happen to the 2,053 children already in custody or make mention of adults who have already been deported without their children. The statement says:
As of June 20th HHS has 2,053 separated minors being cared for in HHS funded facilities, and is working with relevant agency partners to foster communications and work towards reuniting every minor and every parent or guardian via well-established reunification processes.
However, some children in HHS and ORR custody have been sent to foster programs as far away as New York and other states — nowhere near Texas, as reported by The New York Times. So it's unclear if they will be transported back to the Port Isabel Service Processing Center specified in Saturday's statement or if the agency will use other means to attempt to reunite them with their families.
It's also unclear from the new statement whether those 500 families that have reportedly been reunited are being detained or whether they've already been deported together, though it did mention that some families still remaining at the border at the time of the statement's release on Saturday were detained in Texas together. Romper's request for comment from the White House, DHS, and HHS regarding grandfathering in children already in custody and a timeline regarding reuniting families that have already been separated was not immediately returned.
3. The Processes Aren't Entirely New
The databases, hotlines, and other methods that the agencies are reportedly using to "work towards" reuniting families are not very new. Since the Zero Tolerance policy was instated earlier this year, according to the New Yorker, advocates and attorneys have reported numerous problems with the hotline and methods of tracking children and their parents. Some are sent in circles trying to track down a parent or a child, while others report kids not having enough information about their families (a 2-year-old, for example, might not know his or her mother's full name or birthdate to type into the ICE database). "It's a total labryinth," one advocate told The Washington Post.
Until the administration clarifies whether or not the Zero Tolerance policy still stands and shows how the mechanisms for tracking and reuniting families re, in fact, "well coordinated," advocates will likely continue to fight to for immigrant families. In the meantime, those concerned about the issues can call their representatives, donate to organizations that help separated children, or attend one of many nationwide "Families Belong Together" marches on June 30.