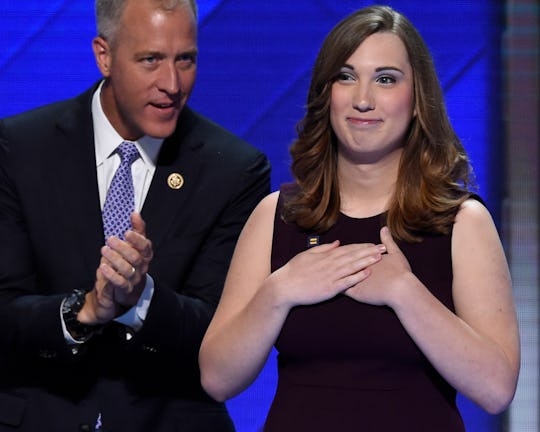 SAUL LOEB/AFP/Getty Images
Where To Watch Sarah McBride's DNC Speech, Because The Transgender Activist Is Making Wave
The theme of the final night of the Democratic National Convention is "Stronger Together" — and more and more Americans are embracing their places within "together" in the party and on the national stage. This was especially true for transgender people, who for the first time saw someone who truly represents them address a national convention proudly and unflinchingly. Progressives are going to want to have where to watch Sarah McBride's DNC speech saved as a favorite on their browsers, because her candid, honest remarks truly help all of us to understand that the transgender experience is simply a human one.
This Democratic National convention is already a historic one, because on Tuesday the Democrats became the first major political party to nominate a woman as its presidential candidate. But women aren't the only on breaking barriers in 2016, so just hours before Hillary Clinton is scheduled to formally accept her nom, McBride, a former Obama White House intern and just 25 years old, took the stage to talk about coming out four years ago, her new husband's death from cancer, safeguarding protections for LGBTQ people, and why she believes Hillary Clinton is the only person in the race up for the job of Commander-in-Chief.
Although McBride's speech is unprecedented because of her gender identity, what's so striking about it is how normal she really is. Catch it on YouTube:
"My name is Sarah McBride, and I am a proud transgender American," McBride begins her speech, beaming, after an introduction by Rep. Sean Patrick Maloney, New York's the first openly gay congressman. She's now the National Press Secretary for the Human Rights Campaign, and even though she recognized progress has been made in the forging of LGBTQ+ rights, she emphasized that there is much work left to do:
I witnessed history while interning in the White House and helping my home state of Delaware pass protections for transgender people. Today I see this change in the work at the LGBT caucus and in my own job at the Human Rights Campaign, but despite our progress, so much work remains. Will we be a nation where there's only one way to love, one way to look, one way to live? Or, will we be a nation where everyone has the freedom to live openly and equally; a nation that's Stronger Together? That's the question in this election.
Most states still permit discrimination against LGBTQ+ people, as Vox noted, and some have recently passed recently passed anti-transgender bathroom bills that single people out while using public accommodations based on their gender identities.
In response to one such law in North Carolina, McBride recently visited a bathroom in that state and Instagrammed a photo of herself inside. The photo and the caption she wrote were powerful protests. Here it is, in part:
We are all just people. Trying to pee in peace. Trying to live our lives as fully and authentically as possible. Barring me from this restroom doesn't help anyone. And allowing me to continue to use this bathroom - just without fear of discrimination and harassment - doesn't hurt anyone. Stop this. We are good people. #repealhb2
At the DNC, McBride detailed why Clinton is the person to continue this work of making this country and fairer and more equitable place for trans people, telling the crowd in Philadelphia that the former Secretary of State will "work with us to pass the Equality Act, to combat violence against transgender women of color, and to end the HIV and AIDS epidemic once and for all." Along with Clinton, the Democratic party is working to show the world why it's so, so important to embrace trans people as equal partners. So bookmark McBride's speech on YouTube, and show it to all your friends.