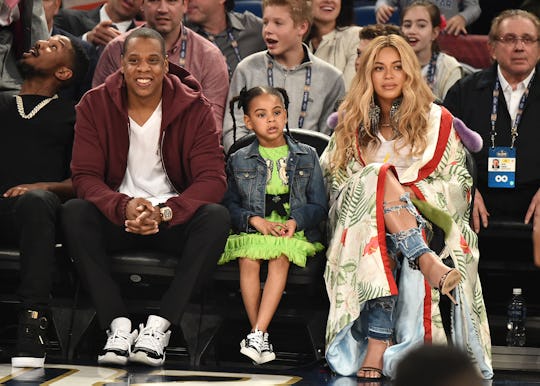 Theo Wargo/Getty Images Entertainment/Getty Images
Where Will Beyoncé & JAY-Z Raise The Twins?
Though we haven't seen what the babies look like yet, it's been reported that Beyoncé and JAY-Z have taken their twins home from the hospital and to a new abode. Seeing as they're just renting the place, fans are wondering if the famous couple really plans on staying put. So where will Beyoncé and JAY-Z raise the twins? Will they eventually return to JAY-Z's home state, New York? Or will they return to Beyoncé's roots, down in Houston, Texas?
As it turns out, they've actually found a new main spot. Their current pad is a Malibu, California estate that they're renting post-twins for a cool $400,000 per month, The Daily Mail reported. Ocean views and 10 bedrooms make the mansion fit for the Queen (and her two new little ones, plus her firstborn, plus her King). The buyer's price tag hovers at $54.5 million, but TMZ shared that the Knowles-Carters are looking for a different Los Angeles home, so they won't be buying this epic option.
So even though real estate has yet to be decided on, it looks like Bey, JAY, Blue, and the twins are going to be nesting in L.A. They've been on a "multi-year house hunt" on the west coast, Variety reported back in April, making the move from their Tribeca, New York base to a place that's a little more relaxed. Beach time with little ones definitely beats noisy, crowded city sidewalks, if you ask me.
You can check out an aerial view of their rented mansion in the tweet below:
In February, an insider told People that the couple was reportedly searching for the right L.A. private kindergarten for Blue, and getting all of their ducks in a row. "When Beyonce and JAY-Z are not working," the source revealed, "they live a very quiet life in L.A. They seem to prefer private gatherings to public outings." Seems like it's definitely the perfect setting to raise the twins in, then.
The five Knowles-Carter members reportedly plan on staying at the mansion through the summer, and by then will hopefully have found a new spot to move into for good. Though neither Bey nor JAY-Z have confirmed their twins' arrival, reports have claimed that the babies were born on June 12 and are believed to be one boy and one girl. The twins were reportedly born prematurely and needed a bit of an extended hospital stay but, seeing as they're home now, it seems like all is well.