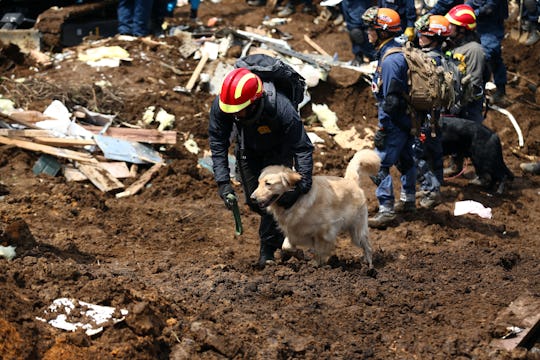 Carl Court/Getty Images News/Getty Images
Which Areas Of Japan Were Affected By The Most Recent Earthquake? Homes Were Destroyed
As relief and recovery efforts in Japan continue after two recent devastating earthquakes, the areas of Japan affected by the most recent earthquake, in the southern area of the country, have experienced a host of aftershocks since the two earthquakes, including a 5.5-magnitude one on Tuesday, according to The Associated Press.
Two powerful earthquakes recently hit Japan within a short period of time — one late Thursday night and the other early Saturday morning. The most recent earthquake, on Saturday morning, caused at least 36 deaths at a 7.3 magnitude, the AP reported. The first earthquake registered at 6.5, causing nine reported deaths. Wednesday, the AP reported the death toll reached 48, with three people missing.
Both earthquakes hit Japan's south-western region, Kumamoto, and, as Quartz and the AP reported, a remote mountain area near Minamiaso was one of the most affected areas. In Mashiki, one of the other hardest-hit areas in that region, gas, electricity and water had remained cut off, with more than 100,000 people in temporary shelters, The New York Times reported.
As for rescue efforts, according to Reuters, there has been focus on efforts to find people trapped under collapsed buildings in Minamiaso. "In Minamiaso, where the damage is concentrated, there may still be people trapped under collapsed buildings, so we are focusing our attention and rescue and search efforts in this area," Chief Cabinet Secretary Yoshihide Suga said, according to Reuters.
According to the Australian Broadcasting Corporation, hundreds of people in the Kumamoto area continue to spend nights in their cars for fear of returning to their homes after the quakes and series of aftershocks. But staying in their cars can cause other life-threatening issues. A 51-year-old woman reportedly died of fatal blood clots, caused by staying in cramped conditions for too long. Reuters also reported that at least 12 people have been hospitalized from this same condition.
Japan certainly has a history of earthquakes, but, according to a CBS News interview with Paul Caruso, a geophysicist at the United States Geological Survey (USGS), Saturday's earthquake was one of the largest in magnitude to hit that particular region. "The second-largest was probably on March 20, 1939 — there was a magnitude-6.7 in this area," Caruso told CBS News. "And we've had magnitude-6.5 and magnitude-6.3 earthquakes, but this is the largest quake that has been measured in that vicinity."
Sending positive thoughts to the citizens of Japan and Ecuador, where the death toll of Ecuador's devastating earthquake on Saturday has been reported as more than 500 people, is nice, but people can also take action to help in a tangible way.