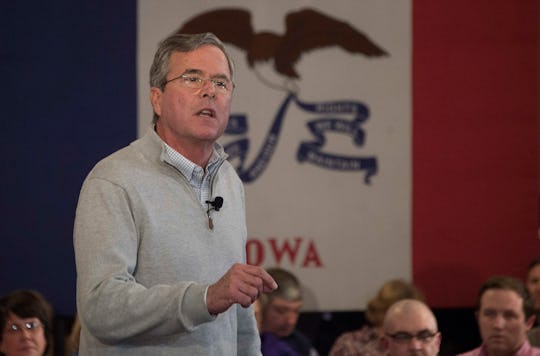 Jim Watson/Getty Images News
Which Candidates Are In The Iowa Caucus? They'll Be Fighting For The First Votes Of The Election
So today's the day voters head to the Iowa caucuses to cast the first votes of the 2016 presidential elections. Which candidates are in the Iowa caucus? Democrats will caucus and choose between former Secretary of State Hillary Clinton, Vermont Sen. Bernie Sanders, and former Maryland Gov. Martin O'Malley. Republicans have more choices in the Iowa caucus including: Donald Trump, Texas Sen. Ted Cruz, Florida Sen. Marco Rubio, former Florida Gov. Jeb Bush, Ohio Gov. John Kasich, Kentucky Sen. Rand Paul, Dr. Ben Carson, New Jersey Gov. Chris Christie, former Arkansas Gov. Mike Huckabee, former Pennsylvania Sen. Rick Santorum, and former Hewlett-Packard CEO Carly Fiorina.
But, of course, some candidates have a better chance at gaining support than others. Here's a rundown of the candidates who have been polling the highest and who are predicted to win the most support in Iowa on Monday.
Hillary Clinton
That's actually Madam Secretary Hillary Rodham Clinton to the rest of us.
Clinton is the wife of former President Bill Clinton and her role in his administration — in addition to her service as Secretary of State and as a senator from New York — make her one of the most qualified candidates for president in modern history as is detailed in the New York Times endorsement of her 2016 candidacy for president.
But all those decades in the public eye have also made Clinton a highly polarizing figure in American politics, with scandals from Whitewater to Benghazi plaguing her political career for decades. Most recently, she has faced a firestorm over her use of a personal email server when she was secretary of state, which many say shows a serious lack of judgement.
Clinton, who was once the presumptive nominee in the 2008 elections, was beaten out by then-relative political newcomer and Illinois Sen. Barack Obama. Many thought she lost largely because of her vote in support of the War in Iraq. This time, Clinton hopes her experience and tough-as-nails demeanor in the face of her opposition will be enough to get her elected to the White House.
Clinton is currently polling neck-and-neck with her only real primary competitor, Sanders. CBS News reported the last polling numbers released before Iowans head to their caucuses show Clinton had 45 percent of likely voters' support compared to Sanders' 42 percent. That makes Monday's caucus votes a high-stakes proposition for the Clinton campaign, which is desperately hoping to avoid a repeat of her 2008 loss to Obama.
Bernie Sanders
Sanders is a presidential candidate who, despite his cranky, self-described socialist politics, has captured the grass roots support of Democratic voters — namely millennials, according to the Washington Post. Many young people have been "Feeling the Bern" thanks to Sanders' positions on everything from offering free college tuition, breaking up the big banks, and providing universal health care for every American.
Sanders has been positioned as the anti-establishment candidate against Clinton. His most pointed criticism of Clinton has been her close ties to Wall Street and the gigantic speaking fees she received from the biggest bailed-out banks, totaling nearly $3 million bucks between 2013 and 2015, the Intercept reported. Sanders has raised tons of cash, even setting records for small donations, the Huffington Post reported, and giving the Clinton campaign a real challenge in early primary states. Sanders, like Obama, was focused on turning out large numbers of new voters in Monday's Iowa caucus, which was the key to the Obama campaign's win over Clinton in 2008.
A Quinnipiac poll released Monday showed only three percentage points separated Sanders and Clinton among Iowa Democratic caucus goers.
Martin O'Malley
O'Malley might only be polling at 3 percent in Iowa, the tight race between the Sanders and Clinton means that his 3 percent is pretty significant.
O'Malley holds many of your typical, establishment Democratic policy positions, but it's his two terms as Mayor of Baltimore and his handling of racial tensions and police brutality in the city, which escalated into riots sparked by the death of Freddie Gray in Baltimore police custody, that have plagued his campaign.
Although O'Malley touts a decline in violence during his time as Baltimore mayor, he's drawn protests from groups like #BlackLivesMatter which has emerged as an important voice for criminal justice reform among Democratic voters.
Nonetheless, O'Malley has emerged as a generally likable national Democrat political figure. And, further, what his supporters think matters. Any Democrat who doesn't receive at least 15 percent support in the Iowa precincts during the caucuses will have to put their voters "up for grabs." So, O'Malley's 3-4 percent of supporters could be the tie breaker between Clinton and Sanders.
Donald Trump
Tough real estate tycoon and crazy-haired reality TV star Donald Trump continues to be the biggest story, not just Monday's caucus, but in American politics. Here's a billionaire who lives in a golden Manhattan tower and is ferried around in his personal 757 who has won the love of millions of working-class Americans for saying exactly what they've been thinking for years, namely that it's time to get mad, get tough and "Make America Great Again."
His campaign has been driven by Twitter rants and stream-of-consciousness stump riffs that have produced incidents like insulting Arizona Sen. John McCain's POW status to calling Republican media darling Megyn Kelly a bimbo.
Trump was expected to lose in Iowa to more Evangelical candidates like Cruz and Rubio, but The Donald has even defied those expectations, picking up a big Evangelical endorsement from Jerry Falwell Jr. even despite his cringe worthy gaffe when he referred to "Second Corinthians" as "Two Corinthians" in front of the Evangelical college student body at Liberty University and later dropped money in the communion plate at an Iowa church.
But once again, Trump has stayed on top, polling at 28 percent of the Republican Iowa caucus vote, compared to his nearest rival Ted Cruz's 23 percent, CBS News reported.
Ted Cruz
Cruz is widely regarded as a brilliant Constitutional scholar and has argued many cases in front of the U.S. Supreme Court, a career making accomplishment for any attorney. But, at just 44 years old, Cruz won an unlikely Texas Senate seat and has been trying to fight off Donald Trump in the race for president.
But despite an impeccable resume, a beautiful family, and ambition to spare, Cruz is notoriously despised by a whole lot more people than most. Even his Princeton freshman college roommate went on the record in a series of Tweets calling Cruz an as*hole and saying "I loathe him."
Cruz has also been blasted by his fellow Senators and even Republican elder statesman Bob Dole, who said if Cruz became the Republican nominee, he would not support his candidacy, as TIME reported.
Marco Rubio
Rubio first hit the national spotlight with his unfortunate water guzzle during his high profile State of the Union rebuttal in 2013, which launched thousands of giggles and endless GIFs.
The 44-year-old, baby-faced senator was the one-time protege of former Florida Gov. Jeb Bush, but, over the course of the campaign, the relationship turned decidedly nasty, the two clashing over Rubio's position on immigration reform during the last Republican debate, which many of Rubio's opponents view as supporting a pathway to citizenship for undocumented immigrants — a particularly contentious policy point in this year's Republican race.
Despite the attacks over immigration, Rubio is polling at a respectable 15 percent in Iowa, putting him in third place behind Trump and Cruz. (The amount is notable since McCain won the nomination in 2008 after coming in fourth place in Iowa.) Who knows how it will all end, but it's sure to be quite the interesting night with so many candidates in the mix.