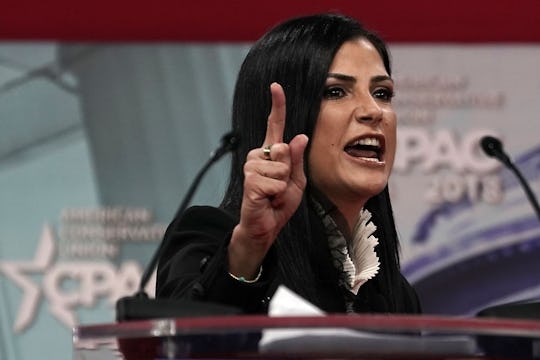 Alex Wong/Getty Images News/Getty Images
These Are The Companies That Have Cut Ties With The NRA
If there's any silver lining to the tragic shooting at the Marjory Stoneman Douglas High School in Parkland, Florida last week, it's that the survivors are refusing to let the country forget about it. They've successfully interrupted the normal news cycle after a mass shooting and forced the White House, mainstream media, and even private companies to publicly grapple with their culpability. So, which companies dropped the NRA? Fifteen businesses have already cut ties with the association, and the list is likely to keep growing. (Romper reached out to the NRA for comment, but didn't hear back at the time of publication.)
It has not been a great week for the National Rifle Association, which boasts about 5 million members, according to the Washington Post. Dana Loesch, a representative for the powerful organization, made an appearance at the CNN Town Hall this week with the Parkland survivors and faced some tough questions. There, she blamed everything but guns for school shootings, further stigmatizing mental illness, the media, and even the armed security guards that were at the school.
On social media, tons of people took issue with her, and the NRA's, reluctance to back common sense gun safety laws to protect civilians. Yet over half of all Americans support stricter gun laws, according to the Pew Research Center. Sensing a shift in the conversation around gun violence, companies are taking a stand by cutting ties with the NRA by no longer offering benefits to its members. Here's the growing list.
Delta Airlines
United Airlines
Enterprise
Hertz
Best Western
Wyndham Hotels
First National Bank
MetLife
Symantec
According to ABC News, Chubb, a financial services company also issued a statement saying, "Three months ago, Chubb provided notice of our intent to discontinue participation in the NRA Carry Guard insurance program under the terms of our contract." Teledoc, a telemedicine company, will also stop providing a discount to NRA members, along with Avis, Budget, Simplisafe, and Allied Vans, according to Mother Jones.
It might seem unnecessary, but companies withdrawing membership benefits sends a very strong message to the NRA that they have to start reconsidering their platform if they want to be able to offer their members any perks.
Because this is America and you always have to follow the cash, it means a lot for a business to consider that their bottom line will be better served by standing up for gun safety and violence prevention, even if it angers some customers, as some most definitely are. Still, other companies, including FedEx, are still considering their relationship with the organization, according to HuffPost.
Shockingly, so are politicians. On Wednesday night, Florida Sen. Marco Rubio refused to answer whether or not he would stop accepting campaign funding from the NRA. He's not alone — the NRA spends tens of millions of dollars every year on Congress members on both sides of the aisle, which is precisely why reasonable gun laws are so out of reach. Legislators, including Donald Trump, have to remain loyal to their backers and have, until now, been apparently really scared to tell them that things have to change.
The NRA has been holding the country financially hostage for years, and it finally feels like something might actually change, all thanks to the Parkland, Florida high school students leading the charge. Still, there are still some who think it's too early to tell if people will continue to demand more from their preferred business or, more importantly, their representatives in the 2018 midterm elections. Maurice Schweitzer, a professor of operations, information and decisions at the Wharton School at the University of Pennsylvania told the New York Times, "Memories fade. The intensity of the feelings that people have on this subject right now will feel different one month or five months from now."
That might have been true once upon a time, but this time, it really does feel like public opinion is shifting and demanding more. Hopefully, it sticks.
Check out Romper's new video series, Romper's Doula Diaries:
Watch full episodes of Romper's Doula Diaries on Facebook Watch.