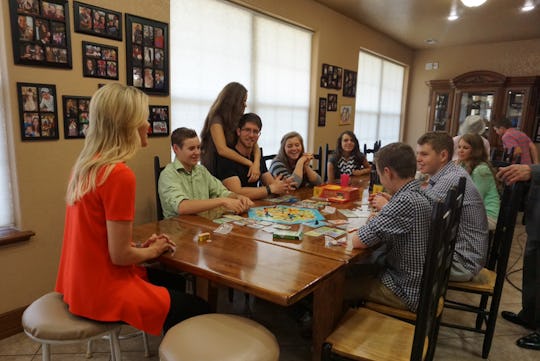 Handout/Getty Images Entertainment/Getty Images
Which Duggars Are Republicans? The Family Is Pretty United
It's easy enough to see the prolific Duggar clan of TLC's Counting On as one entity. Michelle and Jim Bob Duggar raised their 19 children to be obedient and listen to their parents, perhaps especially their daughters. But as the family grows up and those children become parents themselves, are they still towing the family line? There seem to be small, subversive signs that some of the children are looking to go their own way in their home life. But what about politics? Which of the Duggars are Republicans like their father Jim Bob Duggar?
The patriarch of the Duggar clan sat as a Republican member of the Arkansas House of Representatives from 1999 to 2002. He was vice chair of the House Corrections and Criminal Law Subcommittee. Duggar ran in the primary election for State Senate twice on an anti-choice platform, once in 2002 and again in 2006, but was defeated both times. He and the rest of his family openly supported the presidential candidacy of Arkansas Governor Mike Huckabee for the 2016 presidential election. When Huckabee dropped out of the race against President Donald Trump, Jim Bob Duggar stood behind Trump, despite the fact that the president's lifestyle might not be especially aligned with the ultra-Christian Duggar family.
While Jim Bob Duggar might have supported Trump's bid for president, what about the rest of the family? Derrick Dillard, who is married to Jill Duggar, spoke out in hesitant support for Trump on Twitter during the election while openly expressing concern about some of Trump's lifestyle choices. According to The Daily Mail he wrote on Twitter that "voting for Trump doesn't = condoning his lifestyle. It just means agreeing with more of his policies than Clinton."
Dillard went on to tweet that he was supporting the Trump/Pence ticket, but another Duggar husband, Ben Seewald, seemed to swing another way in the election. Seewald, who is married to Jessa Duggar, said that he is neither a Democrat nor a Republican, and that, while he did vote in the 2016 election, it wasn't for Clinton or Trump.
Seewald has also gone on the record in support of the Black Lives Matter and Take A Knee movement in support of racial equality, and called out Trump's 2005 remarks that were caught on tape by Access Hollywood where he said he could grab women "by the p*ssy." Seewald said, according to Christian Today:
Trump's 2005 remarks about women is completely contrary to everything that we believe in as Christians.
There are plenty of members of the Duggar family who appear to be staunchly Republican; oldest brother Josh Duggar was famously photographed shaking hands and smiling with several Republican presidential candidates, and mom Michelle Duggar spoke out vehemently against a bill that would protect the rights of transgender people to use the bathroom of their identified gender. The Observer shared the transcript of a robocall that went out to other people in her hometown:
Hello, this is Michelle Duggar ... I'm calling to inform you of some shocking news that would affect the safety of Northwest Arkansas women and children. The Fayetteville City Council is voting on an ordinance this Tuesday night that would allow men—yes, I said men—to use women's and girls' restrooms, locker rooms, showers, sleeping areas and other areas that are designated for females only ... I don't believe the citizens of Fayetteville would want males with past child predator convictions that claim they are female to have a legal right to enter private areas that are reserved for women and girls.
The Duggars all appear to share an anti-choice sentiment; they showed up en masse to an anti-choice rally in Little Rock, Arkansas, in March, according to the family Instagram account, and the Instagram accounts of several Duggar sisters have shared anti-choice sentiments on more than one occasion.
The family does appear to be united on the political and religious front... but things could change. After all, one or two of the Duggar sisters has been seen wearing pants. Who knows what else could transpire?
Check out Romper's new video series, Romper's Doula Diaries:
Watch full episodes of Romper's Doula Diaries on Facebook Watch.