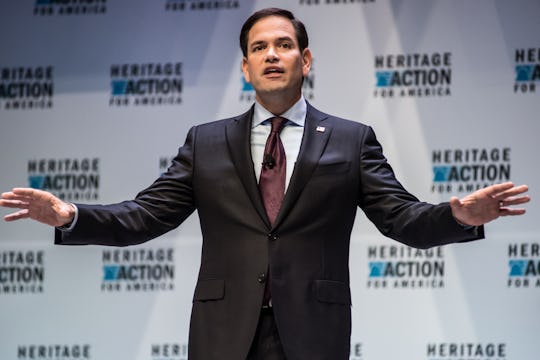 Sean Rayford/Getty Images News/Getty Images
Which States Vote On Super Tuesday? There Are A Lot Of Delegates At Stake
Super Tuesday on March 1 is fast approaching, and it's going to be a big deal. The day when a number of states vote in primaries and caucuses can make or break candidates, and, if you sniff really hard, I bet you could smell the collective sweat of all the candidates put together. I know what you're thinking; Wait, we're still in election season? How is that possible? But now, it's on like Donkey Kong, my friends. This next one is the Big One. The Decider. So, which states will be voting on Super Tuesday? It turns out, a whole big pile of 'em.
Why is March 1st being hailed as Super Tuesday? Because this is when we go national, baby. More states — 12 states and one territory to be exact — will hold primaries and caucuses and more delegates will be up for grabs than any other day during the election. This means 595 Republican delegates (which amounts to about 25 percent of the total number) and 1,004 Democratic delegates. There are also 130 Superdelegates, which is good news for former Secretary of State Hilary Clinton. A Superdelegate is a Democrat who can back whoever they like in a presidential race. They make up about 30 percent of the total number needed to win a nomination, and the numbers are stacked in Clinton's favor.
Which states will be voting on Super Tuesday?
Alabama, Arkansas, Georgia, Massachusetts, Minnesota, Oklahoma, Tennessee, Texas, Vermont and Virginia will all hold primaries for both parties. There will be a Democratic caucus held in American Samoa and a Republican caucus in Alaska.
The state of Colorado is turning out to be something of a renegade this year. While the state will hold a caucus for both parties and the Democrats will be going the traditional route, the Republicans have decided not to pick one particular candidate. They'll let their delegates choose at the National Republican Convention in July 2016.
So, where do the candidates stand going in to Super Tuesday? New York businessman and GOP hopeful Donald Trump has become the clear frontrunner for the national race, winning three of the first four caucuses. His opponents Texas Sen. Ted Cruz, Florida Sen. Marco Rubio, Dr. Ben Carson and Ohio Gov. John Kasich are hoping to cause an upset on Super Tuesday, but the polls (which have Trump at 37.3 percent support) suggest this is unlikely.
The Democratic race, with just two candidates, Clinton and Vermont Sen. Bernie Sanders, will be the one to watch. With just a 6.9 percent difference in their polls (Clinton is at 49 percent, Sanders at 42.1 percent) it truly is anybody's game.