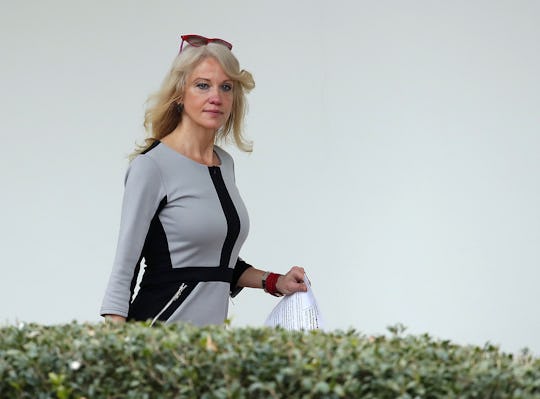 Mark Wilson/Getty Images News/Getty Images
No Discipline After Kellyanne Conway Ethics Gaffe
No one ever seriously expected a top adviser to President Donald Trump to face real consequences when she violated a federal ethics rule during a live appearance on a cable news show last month. After all, Kellyanne Conway had used the exposure to plug the president's daughter's beleaguered fashion brand after Trump himself had tweeted angrily to a department store for dropping the line. And now, as expected, the White House said Kellyanne Conway had good intentions promoting Ivanka Trump's line and that it won't discipline her.
In a Feb. 28 letter to the Office of Government Ethics, which CNNMoney originally obtained, White House deputy counsel for compliance and ethics Stefan C. Passantino wrote that Conway had "acted inadvertently" and was "highly unlikely" to make the mistake again.
But Conway seemed to have a clear objective when she encouraged Fox & Friends viewers to shop the brand after Nordstrom and other retailers opted to stop selling it, some citing poor sales and others acknowledging they were reacting to customers' displeasure with Donald's Trump's performance as president. "It's a wonderful line. I own some of it," Conway said on-air Feb. 9. "I fully — I'm going to give a free commercial here. Go buy it today, everybody. You can find it online."
Days later, the Office of Government Ethics (OGE) sent a letter to Passantino outlining its "strong reason to believe" that Conway had broken the rule that prohibits federal employees from using their office for their own personal or financial gain, or that of their friends and relatives. The OGE had instructed the White House to investigate the matter and report back on any disciplinary action taken — which, according to The Washington Post, could have included a multi-day suspension or loss of pay. On Feb. 28, Passantino responded to say that he had personally met with Conway to review ethics rules with her.
And he was apparently satisfied that Conway did not actually intend to boost sales for Ivanka Trump's brand, which had also been the target of boycotts organized by anti-Trump activists. "It is noted that Ms. Conway made the statement in question in a light, off-hand manner while attempting to stand up for a person she believed had been unfairly treated and did so without nefarious motive or intent to benefit personally," Passantino wrote.
Ultimately, Kellyanne Conway is the only person who knows for sure what her intentions were in endorsing Ivanka Trump's brand on live television from the White House briefing room, standing before the official White House seal. But Donald Trump himself reportedly supported her comments, as the Associated Press reported at the time, citing an unnamed source "with direct knowledge" of the subsequent conversation between the two. In fact, the source told the outlet that Trump believed that Conway was "merely sticking up" for Ivanka Trump — as he had done the day before Conway endorsed the clothing, purses, shoes, and jewelry that make up Ivanka Trump's brand.
"My daughter Ivanka has been treated so unfairly by @Nordstrom," Trump tweeted Feb. 8. "She is a great person -- always pushing me to do the right thing! Terrible!"
It's supremely unsurprising that Conway has evaded official consequences for this one. Then again, given how much Trump appreciates loyalty, did anyone expect anything less?