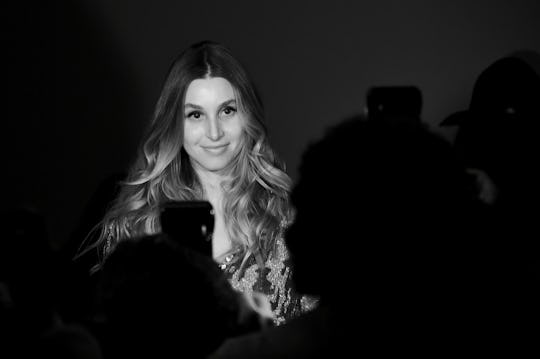 Mike Coppola/Getty Images Entertainment/Getty Images
Whitney Port Announces The Birth Of Her Son, & He's So, So Cute
When Whitney Port announced she was expecting her first child, Hills fans went wild. After months of anticipation, Whitney Port has given birth to a son, according to a blog post she published on Monday afternoon. As one might expect, Port's son, which she and her husband Tim Rosenman named Sonny, is really adorable.
According to Port's blog post, she welcomed Sonny into the world at "12:30am Thursday morning" aka July 27. In Port's message, she described feeling "obsessed" with Sonny and hailed motherhood as nothing short of amazing. Port's newfound mommy euphoria is a distinct turnaround from beginning of her pregnancy, during which she made a series of blog videos titled, "I Love My Baby, But I Hate My Pregnancy."
Now that Port has overcome her tough pregnancy, she's over the moon and in full on mommy mode. A portion of Port's announcement reads, according to her website Whitney Port:
We've all heard mothers give the same speech about how life changing the love for your baby is, and it's not like I didn't believe it or anything, but I guess I couldn't actually connect to those exact feelings until the doctor placed Sonny onto my chest. I love him and feel protective over him, but more than anything, I'm just like obsessed. I can't stop looking at him, or thinking about him when I am in another room. It's a bit like getting a toy you really really wanted as a child. There was all the anticipation and build up, and then you open it and you love it. Unlike the toy, however, I am obviously never going to get sick of Sonny, and he poops.
Port also shared this precious welcome sign to Sonny via Instagram:
Could that sign be any cuter? The sweetness is almost too much to handle.
To make this moment even better, Port's heartfelt birth announcement and Instagram post were accompanied by precious photos of Sonny. In one particularly cute snap, Port snuggles a sleepy Sonny close to her chest. The picture represents an emotional bonding moment a lot of parents can relate to.
So, will fans get to hear more about Sonny soon? The answer is yes.
Port wrote, according to Us Weekly:
All kidding aside, my heart just grew to accommodate all this extra love I now have to give. I don't care if this is sappy or trite and I don't want to say that I love him more than anything ever because I love Timmy and my family. It's not about loving him more than something else I love. It's just awesome. I can't wait to watch him change and grow and take on my traits and Timmy's. I could go on forever, so I'll stop now, but get ready for a lot more Sonny talk coming soon. XOXO, Mom
Yes, more "Sonny talk," please. Considering Port has done a good job of updating fans while she was pregnant, it's likely she'll deliver on her promise. Until then, Port and Rosenman deserve the upmost privacy as they begin the incredible journey of parenting.
Congratulations to Port and Rosenman on their new baby. Sonny is beyond cute, and fans can't wait to hear more about his entrance into the world.