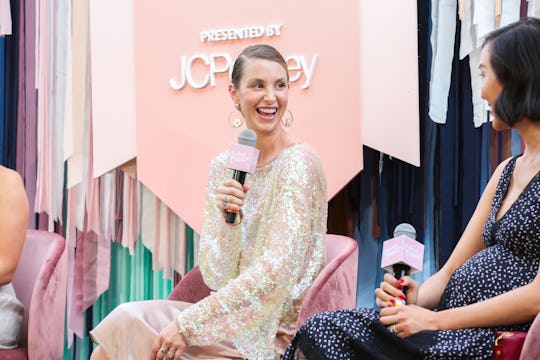 Robin Marchant/Getty Images for Create & Cultivate
Whitney Port Opens Up About How Motherhood Has Made Her More Focused On Her Career
Ever since Whitney Port announced she was expecting her first child, the former The Hills star has been super open and honest about various aspects of pregnancy and motherhood. She has documented her journey — both the joys and the challenges — in a series on her YouTube channel, always taking her fans along for the ride. And in a live appearance this weekend, Whitney Port opened up about how becoming a mom made her even more focused on achieving her career goals.
On Saturday, women in Chicago, Illinois gathered at a conference hosted by Create & Cultivate, a company that hosts conferences nationwide featuring panels and speeches by inspirational women, according to its website. During Saturday's conference, Port appeared in a panel hosted by Create & Cultivate's CEO Jaclyn Johnson, that also featured actress Ashley Tisdale and blogger Chriselle Lim.
During the panel, Johnson asked Port how motherhood has affected her career. Port responded by explaining how she surprised herself by becoming more focused on her career after welcoming her son, Sonny, in July 2017. "It's just a constant wave. Even right now, I feel like I almost hardly make sense, because my son, he's been up from 3:00 to 5:00am the past two nights," Whitney responded, according to a transcript sent to Romper.
"And I'm like, yeah, and I feel bad complaining. That's just the thing. As soon as I complain, I feel an instant guilt," Port continued. "And the mom guilt is just a terrible, terrible thing. But I think for me, it made me almost love my job even more. I felt before I had kids, you'll totally be one of those women that just stays home with my baby all day, and raises them."
However, once Sonny was born, Port was sort of able to see her life path more clearly. She explained:
And then once I have the baby, and I'm sorry if this sounds harsh, I realized, wow, I have so much that I want to do. And so many dreams, and so many goals. Now, every chance I have to get one step closer to that, I love it, and I'm so much happier in my career, knowing that I have the ability to do both.
That being said, Port admits she has struggled with balancing motherhood and her career, explaining that she feels guilty about neglecting work when she's with Sonny, and guilty about neglecting her son when she's working. She said:
It's just a constant up and down. When I'm working, I feel a little bit guilty that I'm not with my baby, raising them. And when I'm with Sonny, I feel like there's a million things that I should be getting done. So it's a constant negotiation in my head, telling myself that I'm in that moment, be in that moment, enjoy what I am doing. And the next thing will be waiting for me afterwards.
In case you're not up to date on Port's career since her days as a reality star on The Hills and The City, here's a refresher. For nine years, Port had her own fashion brand called Whitney Eve. Her father, Jeffrey Port, managed the business side of things, and a few years his 2013 death, Port decided to shutter the company. In early 2017, Port told InStyle that Whitney Eve was "very near and dear to me because I started it with my father, who recently passed away." She added that she tried to keep the brand alive with her siblings, "but it was difficult not to have his expertise with the business side of things."
In February 2017, Port and her business partner, Laurenne Resnik, launched a fresh flower company called Bloom2Bloom together, People reported. And in a June 2017 blog post, Port announced her newest career venture as the Chief Brand Director of Bundle Organics. According to the brand's website, Bundle Organics sells pasteurized juices and teas designed for pregnant women and new moms. Port opened up about her partnership with the company at Create & Cultivate, telling the audience:
We've now just become a really supportive brand that provides products for pregnant and nursing women. And it was just very, very important for me at the time, when I was craving something, physically needed something. And now we're creating a support system for pregnant and nursing women. Because we need all the help and support we can get.
Even though Port has found challenges when it comes to balance motherhood with her career, it's clear that she still manages to kill it in both departments.