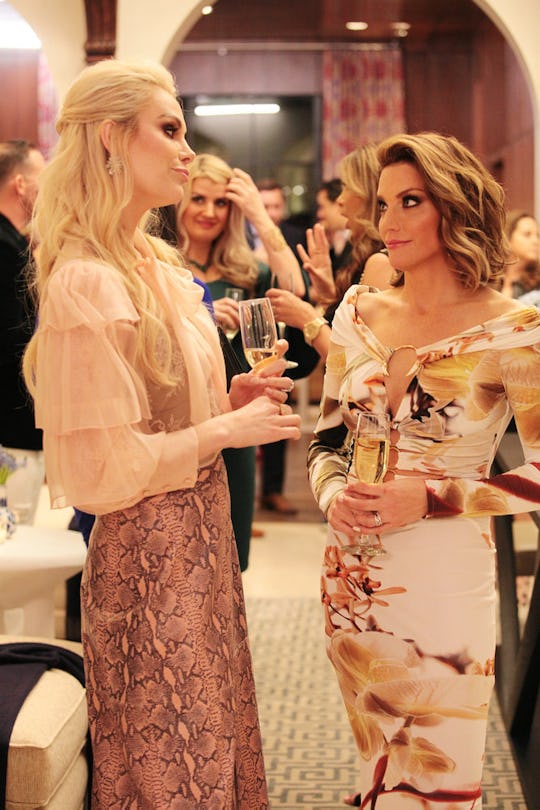 Peter Larsen/Bravo
Did You Know Cary Deuber From 'RHOD' Is Danish? Me Neither
After a season full of drama, rumors, and shouting-matches, the ladies of The Real Housewives of Dallas took their talents to Copenhagen for a much needed trip away — apparently to meet some of Cary Deuber's extended family. It turns out that the country is actually her homeland and she hadn't been there for more than 20 years prior to the RHOD trip. But fans are probably wondering: who are Cary Deuber's relatives on Copenhagen?
RHOD showed an emotional reunion between Cary and her cousins — and she seems to have a lot them. But, as she wrote in her Bravo blog, it was a long overdue reunion. She wrote that the group had "a great time" at her cousin's concert and that her cousins had visited Texas years ago, but Cary's own schedule didn't allow for a reunion at that time.
"Just to clarify, my cousins did visit Texas five years back, but, unfortunately, their trip coincided exactly with our annual summer family trip (Mark, Zuri and me) to Switzerland," she wrote. "So we were still on opposite sides of the Atlantic." This time, however, seeing her cousins did work out and they also surprised her with her husband and daughter during a party in a clip from Wednesday's episode. It was one of those rare raw moments in RHOD and it seemed to bring the rest of the cast together, if only for a few minutes.
While part of Cary's reason for being there was to reconnect with her cousins, it didn't stop all of the season-long drama from following them across the pond. Thank the reality TV gods that none of that drama leaked into the outing at Cary's cousin's concert or the party at her cousin's home. But the Dallas 'Wives couldn't have a trip together without some public displays of aggression.
Cary wrote on the same Bravo blog post about the fight between Kameron Westcott and D'Andra Simmons which escalated when they went out to their first dinner in Copenhagen. The drama between the women started long before their flight left Texas, but when Kameron demanded to know why D'Andra didn't call LeeAnne Locken about wedding dress shopping, it spiraled into yet another friendship-shaking feud.
"It's so embarrassing to see the Danish patrons in the restaurant staring at the loud obnoxious Americans," Cary wrote. "I just hope the behaviors that night can be partly explained away by bad jet lag. I just can't with the war going on between D'Andra and Kameron."
Since they were in Copenhagen, though, at least Cary was able to escape some of the ongoing drama when she visited with her relatives during the trip. But I'm not sure if this trip will be good for the women of RHOD in the end or if it just furthered all of the little grievances they have with each other. On the one hand, you'd expect a big trip like this to bring some of them closer together and get the dirty laundry out in the open. But these are the same women who bring up issues seasons later, so I don't know if anyone is going to *getting over* anything anytime soon.
The one good thing that came out of the trip was definitely Cary's reunion with her extended family and for once, there was something pure and virtually drama-free on the show.