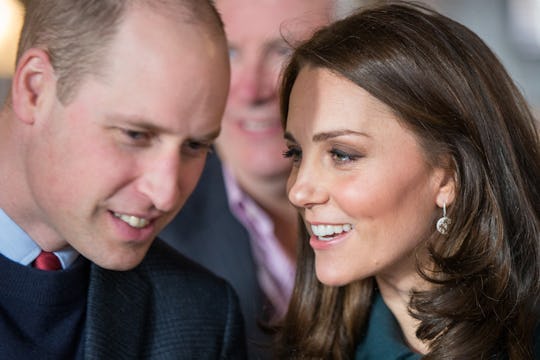 WPA Pool/Getty Images Entertainment/Getty Images
Who Are The Royal Baby's Godparents? There Are A Lot Of Possible Contenders
The Duke and Duchess of Cambridge, Prince William and Kate Middleton welcomed their second baby boy and third child on Monday, bringing into the family another royal baby. But since the couple have yet to announce any other big details about their son, there are plenty of questions that are already being asked by those of us who are curious and totally obsessed with all things royal. Like, who are the royal baby's godparents? It hasn't yet been revealed who the family has chosen to act as godmother or godfather to their newest child, but there are plenty of potential contenders for the roles.
For both of Middleton and Prince William's other children, there were a handful of godparents chosen instead of the standard two for each child. As this seems to be more common than not in the royal family, it could also mean that the new royal baby will be given more than one godmother and godfather when the time comes as well. But just in case you're wondering how there could be enough royals to fill the shoes, they actually don't necessarily have to be part of the royal family in order to be named godparents. In fact, with Princess Charlotte, Middleton and Prince William chose a mix of family and friends to serve as godparents, so if that's the case this time around, then the new royal baby's godparents could also be a mix of more well known royals and some close friends to the couple.
Since Prince Harry and Meghan Markle are to be married in May, there has been come speculation as to whether or not they'll be named as two of the royal baby's godparents. By all accounts, Middleton and Markle seem to have grown close over the impending royal wedding and Markle will likely be the next duchess to bring a royal baby into the family, but that doesn't necessarily mean that Prince Harry and Markle will assume the role of godparents.
In the past, Prince Harry hasn't been chosen to be godfather to either of the couple's other children and, royal expert Marlene Koenig told Town & Country, he may not be chosen this time around either. Because Middleton and Prince William seem to choose from a pool of close friends and confidants and just a few family members, it really means that the chances of Prince Harry being added to the list of godparents is 50/50.
But that doesn't necessarily take Markle out of the running. The Daily Mirror reported that she is among the potential godmothers for the royal baby, especially since she's become a close friend to the royal couple and will be marrying into the family in May. Of course, being a family member doesn't automatically increase her chances, as proven by Middleton and Prince William's godparent choices in the past, but Markle is also a friend to Middleton as well as a future sister-in-law.
Pippa Middleton, the Duchess' sister, could also be a possible godmother to the new royal baby as well. She wasn't named as a godmother for either of the other royal children, but she did serve as a member of her sister's bridal party in the royal wedding of a lifetime. And in the past, Middleton has chosen family members to serve as godparents, even if her sister hasn't yet made the cut. E! News also speculated that Middleton's brother, James Middleton, could also be on the list as a possible godfather to their newborn. Then again, perhaps Helen Asprey, the royal couple's personal assistant, could be named as a godparent, especially since she's known Prince William since they were kids and in the past, Middleton and Prince William have had other close personal employees named as godparents.
As with most traditional godparent reveals, the royal baby's is likely to be revealed at the christening, which will happen two or three months following his birth. This means that there's still plenty of time to speculate on who the royal baby's godparents will be and if he'll surpass his siblings with even more of them.
Check out Romper's new video series, Bearing The Motherload, where disagreeing parents from different sides of an issue sit down with a mediator and talk about how to support (and not judge) each other's parenting perspectives. New episodes air Mondays on Facebook.