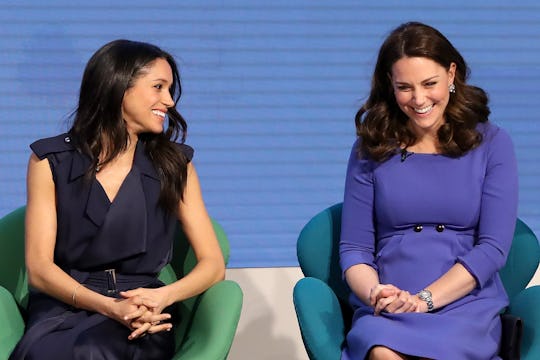 Chris Jackson/Getty Images Entertainment/Getty Images
Meghan Markle Has The Perfect Response To Kate Middleton Giving Birth
Kate Middleton, Duchess of Cambridge, and Prince William, Duke of Cambridge, have welcomed their third child — a boy! Kensington Palace shared on their official Twitter account that Middleton was admitted to the hospital as she was in the early stages of labor on the morning of April 23. Just a few hours later, they gave an update that the baby was born at 11:01 a.m. at 8 pounds 7 ounces, and that Prince Harry had been "informed" of the news. If Harry knows, obvi his fiancé knows, and Meghan Markle's reaction to William and Kate's baby proves she respects not only her future royal in-laws, but the entire royal protocol.
Prince Harry and Meghan Markle's wedding is just around the corner, scheduled to take place on May 19 at St. George's Chapel in London. While she hasn't "officially" married into the royal family quite yet, it seems as though she's been a part of it for forever. Ever since Meghan and Harry announced their engagement in November, they've frequently been photographed in public together, even with Prince William and an expecting Kate Middleton, and everything we've seen of them has been all smiles. "William and I are absolutely thrilled," Kate told a reporter for People back in November when asked about the engagement. And Harry's response to Kate Middleton's third pregnancy was "Fantastic," reported Today.
What we do know is that the most inner royal circle, including The Queen and Prince Harry, were among the first to be informed of the baby's birth as the Tweet above revealed. I'm guessing Meghan would've been included in the list of names mentioned if a) she had Harry had already exchanged vows and b) there were enough characters to accommodate her possible new role (Duchess of Sussex is a strong contender).
As of now Markle has yet to comment on the good news to any reporters, or vis-a-vis the Kensington Palace Twitter feed, and that's probably because she not only respects her sister-in-law's privacy, but also the royal family protocol. Her own personal social media accounts on Twitter and Instagram have been deleted for a while now. If she wanted to, she could obviously find a way to get her response out there in the public, but anyone new parents knows that one of the best gifts they could receive is a moment of privacy with their newest addition, and definitely final say in what information gets shared about their newborn.
And it's not only Meghan's silence immediately following the birth of the baby that proves she looks up to Kate: "Meghan's body language proves that she looks to Kate as a mentor," revealed Good Housekeeping. Body language experts explained to the publication that because Kate is such an "expert" when it comes to public outings, Meghan tries to mirror and mimic Kate's physical movements, be it a crossing of the legs at the ankles or hands clasped in her lap. Much of this is from royal training of course, and there are differences in the way they carry themselves, but there is no denying that Kate is a near-perfect (if not a hundred precent spot on) model of how a Royal should behave and that Meghan is following suit.
In the meantime, there is also the question of whether or not Prince Harry and Meghan Markle will be appointed godparent titles for Prince and Princess William's newest bundle of joy. While Harry (or Pippa Middleton) is not a godparent to nephew Prince George of Cambridge and niece Princess Charlotte of Cambridge, it is possible that he could be appointed a godparent role for the third Cambridge baby, though there is no guarantee.
"Royal expert Marlene Koenig told Town and Country that Markle and Harry could assume godparent positions, but she deems it "unlikely," considering the soon-to-be-parents have frequently chosen friends or former classmates for the role," reported Brides. "However, Princess Charlotte's long list of godparents does include a few relatives, meaning Kate and Will could potentially choose Harry or Pippa for baby number three."
Who knows, now that Prince Harry finally seems to be ready to settle down, perhaps he and his new bride will be lucky enough to add the title "godparents" to the new names they will receive once they are wed.
Check out Romper's new video series, Bearing The Motherload, where disagreeing parents from different sides of an issue sit down with a mediator and talk about how to support (and not judge) each other's parenting perspectives. New episodes air Mondays on Facebook.