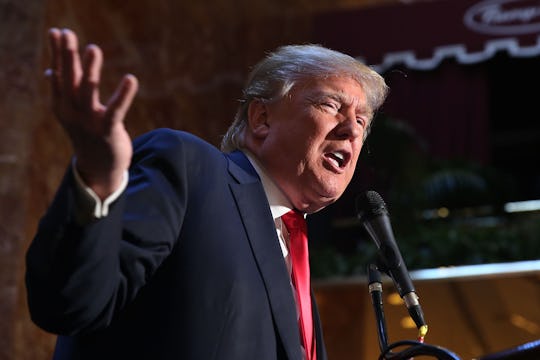 Spencer Platt/Getty Images
Who Did Donald Trump Insult While Hosting 'SNL'? Surprisingly, Not As Many People As You'd Think
You know how your mother told you that if you don't have anything nice to say, you should just not say anything at all? Well, Donald Trump insults everyone. Most of his campaign has been built around mocking other people. Last month, he cancelled a Jimmy Kimmel appearance and it was no surprise. Kimmel rightly assumed he was probably "off calling someone an idiot somewhere." In the past months, Trump's called Bernie Sanders a maniac, Lindsay Graham an idiot, and let's not forget that he has had some trouble with Mexicans. So obviously he was going to start heckling people during his SNL appearance.
Trump is the quintessential bully. He craves attention from the cameras, doesn't appear to bother listening to other people, and appeals to the most base insecurities to get people to love him. The SNL writers played off those characteristics tonight. In fact, a lot of "Weekend Update" was about criticizing the host, something that doesn't happen very often. Trump himself was pretty tame for Trump. Sure, he said some racist things, but nothing worse than he's said before. Right from his monologue, he went for some punches (and then they did an entire sketch about him insulting people).
NBC And SNL Itself
First, he took a dig at NBC and the media in general in his opening monologue. Then, in an early sketch set in an Italian restaurant, he explained that he "couldn't be bothered" to rehearse. Instead, they pretended that he was live tweeting the sketch, insulting the entire cast. He called everyone a loser, except for Leslie Jones, who he called a "real winner." 
Rosie O'Donnell, Of Course
Trump and Rosie have a long history. He's called her a dog, she's shot back at hi. It never seems to end. In one of the lamer jokes from his monologue, he addressed the beef. And then insulted her again. He's good at that. 
Overall, the SNL cast insulted Trump more than he insulted them (ok, except for that one sketch). In fact, he really steered very far from politics, probably because then anyone filing a FCC complaint would have a much better reason to do so. Trump was pretty un-Trumplike tonight, making it pretty anti-climatic. Except, of course, for anyone who cares about ratings.
Image: Spencer Platt/Getty Images