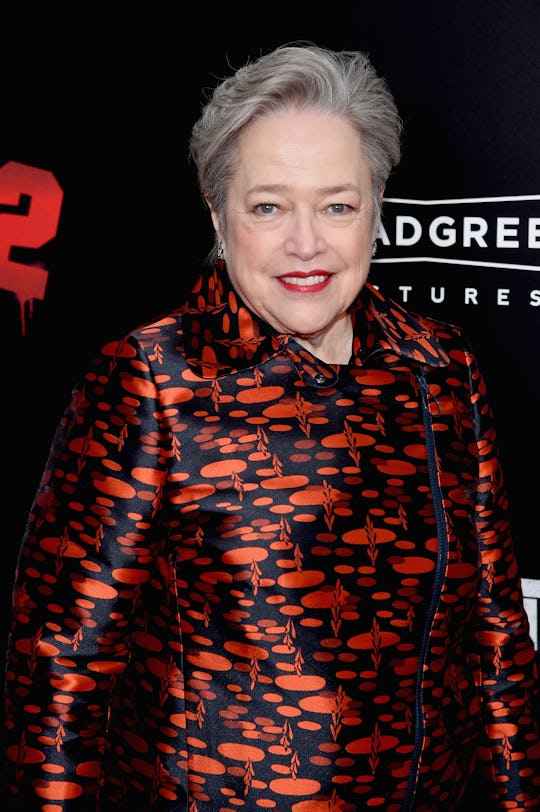 Jamie McCarthy/Getty Images Entertainment/Getty Images
Kathy Bates' 'Feud' Role Will Be Unforgettable
The next big Ryan Murphy anthology series, Feud, premieres on FX starting March 5 and its first season will look at the famous rivalry between Bette Davis and Joan Crawford as the two stars worked on What Ever Happened to Baby Jane? together in the early 1960s. In the official trailer for the new series, you see Jessica Lange as Crawford and Susan Sarandon as Davis, but who does Kathy Bates play on Feud?
Joan Blondell is, as to be expected, yet another big name of the film industry at the time. Today, you might know her best as Vi, the malt shop waitress from the original Grease movie, but for more than 50 years she regularly worked in both TV and movies, making her a big star in her own right and a logical addition to the cast of Hollywood icons that make up Feud. But it's always kind of been in her blood since Blondell was born into a vaudeville family who performed stage acts across the country.
According to The New York Times, Blondell made her stage debut at four months old, when her parents brought her into one of their acts. Later, at the age of 18, Blondell made her debut on Broadway with a small part in The Trial of Mary Dugan and a few years later, she began her official movie career. Flash forward about 50 years, and Blondell appeared or starred in more than 100 films, TV shows, and shorts during the span of her career.
In Feud on FX, Bates plays Blondell, who is seen talking to a camera crew about the feud between Crawford and Davis and, although it's not clear yet how big of a role this part will end up being, I'm sure Bates will succeed in making the portrayal memorable. Although she was regarded as a character actress of sorts and often cast to play the comedic second lead or supporting character in a movie, Blondell's long list of films (including Steve McQueen's The Cincinnati Kid) and TV shows she's appeared in (Starsky and Hutch and The Love Boat, for starters) made for a long lasting career.
Although she never won any big award, Blondell was nominated for several Emmys throughout her career. In October of 2016, UCLA even created 'Blonde Crazy: Joan Blondell', a five-week film festival dedicated to her with 14 of her movies playing throughout the festival. Bates, known for portraying pretty much all of her characters in Murphy's world with excellence, will definitely do Blondell justice in her performance in the new series. Feud premieres on March 5 at 10 p.m. ET on FX. Don't miss it!