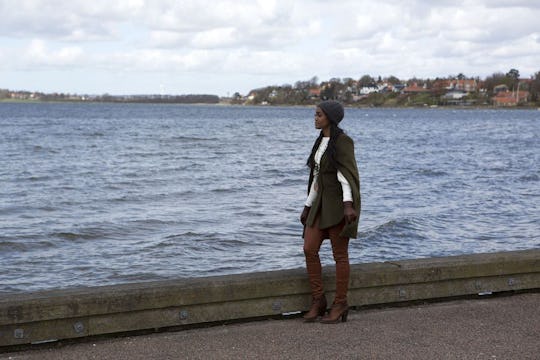 Thomas Lekdorf/ABC
Rachel Has A Big Decision To Make On 'The Bachelorette'
After almost half a season of the Lee and Kenny saga, it's all going to come to an end Tuesday night when Rachel sends one of them home. But who does Rachel eliminate on The Bachelorette two-on-one? She has to choose between the two of them and right now, she's undoubtedly more than a little confused about what to do.
There's been a virtual tug of war with her feelings and whatever is going on between the two contestants. Typically when that happens, the Bachelorette uses a two-on-one date to get to the bottom of the issue and choose which part of the feuding pair to send home. On JoJo's season of The Bachelorette, she did it with Alex and Chad. On Nick's season of The Bachelor, he had the same kind of date take place between Corinne and Taylor. Whether you agree with what Lee's been saying to Rachel or are firmly on Team Kenny, it's obviously a tough decision for the Bachelorette since she's getting conflicting stories on both sides. And judging by the preview for Tuesday's episode, she's going to be feeling that weight.
So who gets eliminated on The Bachelorette two-on-one date Tuesday night? It definitely looks like the feud between Lee and Kenny will be ending, however it happens, and it all falls on Rachel's shoulders to make the decision.
In Rachel's People blog, she talked about the upcoming conclusion to Kenny and Lee's ongoing battle. "I never believed the drama would lead to the explosion that happens next week," she wrote. "There will be blood, tears and threats that cannot be taken lightly. I think some of these guys take the old phrase 'all is fair in love and war' a little too seriously… I just hoped they wouldn't forget the love."
That doesn't really give anything away, but Rachel has three choices. She can send Lee home, effectively admitting that she doesn't quite believe his claims about Kenny, or she can send Kenny home, thereby admitting that she's siding with Lee and giving him the benefit of the doubt. The third option, however unorthodox though not impossible, would be for Rachel to send both men home. After Monday's episode, it's clear that she's still very confused when it comes to what's been going on between Kenny and Lee. And without actually asking producers if she can check tape footage (is that even allowed?), she has to go by the he said/he said that's likely confusing her even further.
During the first part of the two-on-one date, Lee talked to Rachel yet again about all of the alleged things Kenny's done toward him, but when Rachel confronted Kenny in the name of being open and honest with everybody, he seemed genuinely surprised.
As it stands, the odds might be in Kenny's favor right now, if only because it looks like Kenny gets injured on The Bachelorette, which (depending upon how it came out) could help Rachel see Lee's true colors. The good thing is that after Tuesday, the big drama will finally be over (hopefully) and whoever is left standing will be able to join the other men in seriously pursuing Rachel once again.