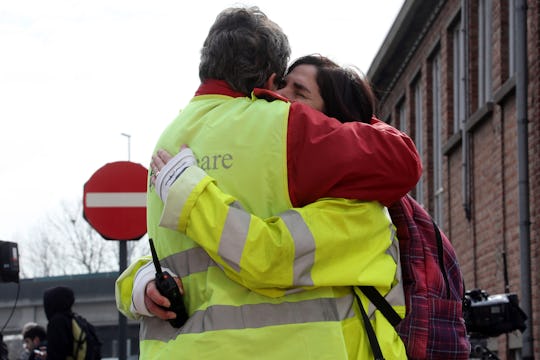 Sylvain Lefevre/Getty Images News/Getty Images
Who Drew The Le Monde Cartoon About The Brussels Attacks? Plantu's Tribute Is Heartbreaking
It's been only hours since the devastating Brussels attacks were carried out in two separate, but incredibly trafficked, Brussels locations, and already the signs of support and solidarity that terrorism will never prevail when standing toe-to-toe with humanity and pure human compassion. A moving tribute published by the French newspaper Le Monde illustrates that point entirely, and many are asking, who drew the Le Monde cartoon about Brussels attacks? The illustration, drawn by the artist Jean Plantureux (Plantu) is an emotional, beautiful, and stunning show of support for a city that will now endure the heartbreak Paris (and so many other locations around the world) know all too well.
(Update: ISIS has claimed responsibility for the terror attacks in Brussels Tuesday.)
Shortly after three explosions ripped through the city in the early hours on Tuesday, March 22, Le Monde shared this photo with the dates "November 13" and "March 22," the two dates when terror and violence claimed dozens of innocent lives. November 13 is, of course, the date of the Paris attacks, and now, Brussels will join the ever-growing list of cities ravaged by horror. The image is a somber, unified cry, and even though it doesn't scream "this will not define us," the sentiment of the message — that hope and compassion and humanity will prevail — soars through, loud and clear:
Though it's been less than six months since the Paris attacks, Just days ago, Salah Abdeslam was arrested and then officially charged for his contributions to the Paris attacks. Abdeslam was found and apprehended in Molenbeek, a neighborhood in Brussels that's become synonymous with terrorist activity. So France knows the acute pain that Belgium will now experience more poignantly than any of it's E.U. counterparts, and though they share an unwanted bond in terrorism, their stories are similar: fear, havoc, horror, yes, but hope, camaraderie, and compassion.
The cartoon was drawn by cartoonist Plantu, according to Vox.com, and it will be wholly unsurprising if it hasn't already become an iconic symbol of what it means to come together and stand together in the aftermath of such senseless violence. Plantu is hailed as one of France's most famous satirical cartoonists, and in an interview with France's English-language newspaper, The Connexion that dates back to 2007, he said that he believes his work can make a difference, saying, "Yes, we can. At least I act as if we can." In 1992, his first published drawing was of a peace dove with a question mark places on its beak. In his Connexion interview, Plantu made clear that "international violence have always been a major theme in his work," and though it's unfair to declare any of his works as the "most important" illustration he'll draw, it's impossible to ignore the ripple effect his illustration in Le Monde will have for weeks and likely years to come. The two figures embracing — a show of France and Belgium, who border each other, coming together — don't just offer compassion and understanding, but they send a message: violence and terror may take down buildings, but it will never tear down hope.
This post is updating ...