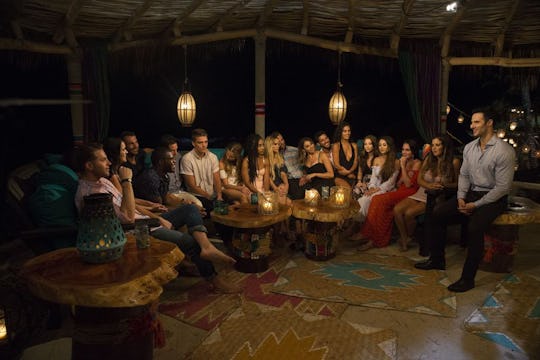 Paul Hebert/ABC
Someone Is Getting Engaged On The 'Bachelor In Paradise'
It might be hard to believe that in the span of less than two months people actually find love on Bachelor in Paradise, but if Evan and Carly are any indication, it's very possible. So when the filming time for Season 4 was even shorter because of the allegations of misconduct on-set, it seemed like an even smaller chance that there would be an engagement at the end of all this. So who gets engaged on the Bachelor in Paradise finale? Based on the trailer, someone is definitely proposing, but who? There was at least one solid couple who started out together and made it all the way to the end with just one small hiccup in their relationship that they worked through together.
Derek and Taylor not only seemed like the most legit couple to viewers, but judging by the way their fellow contestants viewed them throughout the season, it was clear to everyone around them that they would be endgame. And according to Us Weekly, Derek and Taylor are now engaged after Bachelor in Paradise, according to a source. And while the couple hasn't officially come out to confirm or deny the claim, the source reportedly told the magazine, "Derek and Taylor got engaged last night. No one knew Derek was going to propose. He gave her a Neil Lane ring." Is anyone really all that surprised though? These two have been attached at the hip all season.
Fans might remember Taylor from Nick's season of The Bachelor, when she may have spent more time feuding with Corinne than actually putting in time with the Bachelor himself. During JoJo's season of The Bachelorette, Derek didn't really make any enemies, but he also didn't last very long, so it was great to see the two of them find love with each other on Bachelor in Paradise.
Because of the nearly two week break in production following the sexual misconduct allegations (though no evidence of wrongdoing was found during the investigation), not many other Bachelor in Paradise couples this season were able to make it very far. But at least with Derek and Taylor, who are now apparently engaged if the finale promo is any indication, something real came out of the season. For fans, though, the best is yet to come when the engagement (as long as this is not a drill!) airs on the Bachelor in Paradise finale on Monday night.
Check out Romper's new video series, Romper's Doula Diaries: