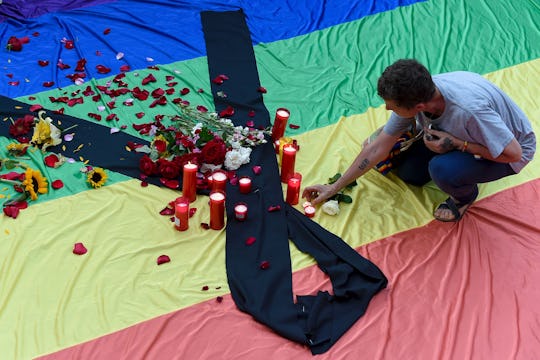 JOSEP LAGO/AFP/Getty Images
Who Is Alejandro Barrios Martinez? He Was Among The Youngest Of The Orlando Victims
A gunman pledging allegiance to the terrorist organization ISIS entered a popular gay Orlando nightclub called Pulse shortly after 2 a.m. Sunday. With him, he had an assault rifle, a semiautomatic handgun, and, apparently, the intent to murder as many people as possible. The result was the deadliest mass shooting in modern U.S. history, with more than 100 people injured, 49 of them fatally. Officials who entered the club after the three-hour hostage situation and police shoot-out that left the killer dead heard the haunting sounds of the cell phones of the dead ringing and buzzing. It's one of many disturbing details of the shooting to emerge, and it humanizes the many victims on a heartbreaking way, fueling the public's desire to know who each of them were. One of those confirmed dead so far is Alejandro Barrios Martinez, and it's very possible his phone was one of those ringing incessantly as family and friends desperately tried to reach those inside of Pulse.
As of 1:20 p.m. Monday, the city of Orlando publicly released the names of 45 of the 49 victims. They range in age from 20 to 50 years old, and at 21, Martinez is among the youngest to have died.
Devastating details and anecdotes about some of the victims are beginning to emerge. J.K. Rowling, author of the popular Harry Potter book series, tweeted that she "can't stop crying" after learning that one of those killed in the attack was a 22-year-old who worked at the Wizarding World of Harry Potter attraction at the Universal Orlando theme park. Another victim, Eddie Justice, exchanged texts with his mother while he was trapped in a club bathroom with the gunman.
While Martinez's name appeared among those who were killed during the attack — one that was reportedly motivated at least in part by the gunman's aversion to homosexuality — neither his family nor authorities have shared in details about his life, or a photo of him. These will likely come in time.
In the meantime, many will continue to focus on the victims, and not on the gunman. While investigators must find out all they can about the American citizen responsible for this act of depravity, even the director of the FBI has stated that he will not say the shooter's name. The American people are now honoring those who aren't with us anymore through vigils, social media tributes, and donations to a GoFundMe for the victims.