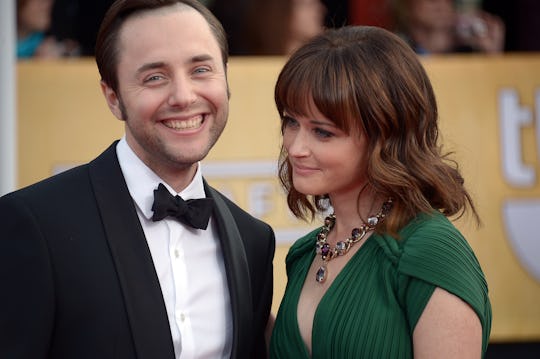 JOE KLAMAR/AFP/Getty Images
Who Is Alexis Bledel Married To? The 'Gilmore Girls' Star Met Her Husband On Another Show
In a perfect world, when Gilmore Girls ended, Alexis Bledel (Rory) and Milo Ventimiglia (Jess) would have run off into the sunset, never to be heard from again except to show off the beautiful children they would eventually create together. Instead, Bledel found love somewhere else, and you can't really fault her for it either. So who is Alexis Bledel married to? The Gilmore Girls star met her husband, Vincent Kartheiser, when she had a three-episode arc on Season 5 of Mad Men, in which he starred at the time as Pete Campbell.
But, according to the couple, their romance didn't start until well after the season was over. During her time on Mad Men, Bledel played Beth Dawes, a wife and mother who was dissatisfied and mentally damaged due to the use of frequent electroshock therapy. She eventually entered into an affair with Pete (Kartheiser), but the affair was cut short when she underwent another treatment and couldn't remember him. According to Kartheiser, the two remained professional until her multi-episode stint and the season were over.
Then, apparently, all bets were off. In fact, their pairing was something fellow Mad Men co-star John Hamm approved of himself, saying that he could see the chemistry and connection between the actors right away and that it went far beyond how cute they looked together.
Bledel and Kartheiser went public with their relationship in October 2012 and the following March, announced their engagement. In the fall of 2015, the couple welcomed their son and soon after, Bledel began filming for the Gilmore Girls revival, Gilmore Girls: A Year in the Life, which begins streaming on Friday, Nov. 25.
If you're a fan of Mad Men, it might be hard to stomach Rory Gilmore dating and then marrying Pete Campbell, because he was pretty much a snake and a creep (insert other similarly accurate adjective here) for every season of the show. But he must simply be a great actor, because the way it looks, in real life, Kartheiser is head over heels for Bledel and you kind of have to love him for it.
Overall, the couple has kept their private life, well, private, and that's totally OK. Their wedding was a small event and they kept both the pregnancy and their son private as long as they could. But apparently doing things quietly and under the radar is the way to go to make your relationship healthy in Hollywood, as it's apparently worked for Bledel and Kartheiser.