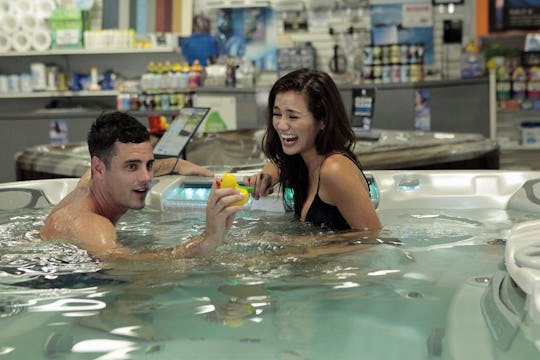 Who Is Caila's Ex-Boyfriend? 'The Bachelor' Contestant Has A Semi-Recent Ex
When Ben Higgins invited Caila Quinn on the first one-on-one date of Season 20 of The Bachelor, viewers immediately wanted to know everything about her, including her dating history. So let's investigate: Who is Caila's ex-boyfriend?
According to Inquisitr.com, the 24-year-old software sales rep from Hudson, Ohio had a boyfriend up until last summer, but he hasn't been identified. Quinn allegedly said that she broke up with her ex when she saw Ben on The Bachelorette, but that seems like an Internet rumor. Her Twitter and Instagram accounts don't show any photos of an ex. All we really know is what Caila herself has said. "I've been in love before, but with the wrong people," she told Higgins during the second episode of this season of The Bachelor.
Apparently she thinks Higgins is the right people, given that she withstood a "cheap date" day that involved tag-alongs Ice Cube and Kevin Hart, who at one point got naked in a hot tub while they were in it.
Once the two ditched their, um, guests for dinner, Higgins asked Quinn what she thought about the prospect of meeting the love of your life on a reality show. Her answer revealed a lot about her last relationship:
My last relationship, I actually met that person on a plane. He didn't get my number, and then we ran into each other two weeks later in the city of Boston, and I thought fate was telling me, 'This is the person.' And we dated a year, and it was really serious. We almost got engaged.
When Higgins asked what happened, Quinn said:
I was kind of waiting for my hear to catch up with the story of us meeting on the plane. But it didn't actually end up working out. So I think now, coming into this experience knowing it's not really about how we meet. It's about having that special time together and getting to know each other.
It certainly seemed like she enjoyed getting to know Higgins on their date, and didn't seem to be looking back at all.
Image: ABC, cailaquinn/Instagram