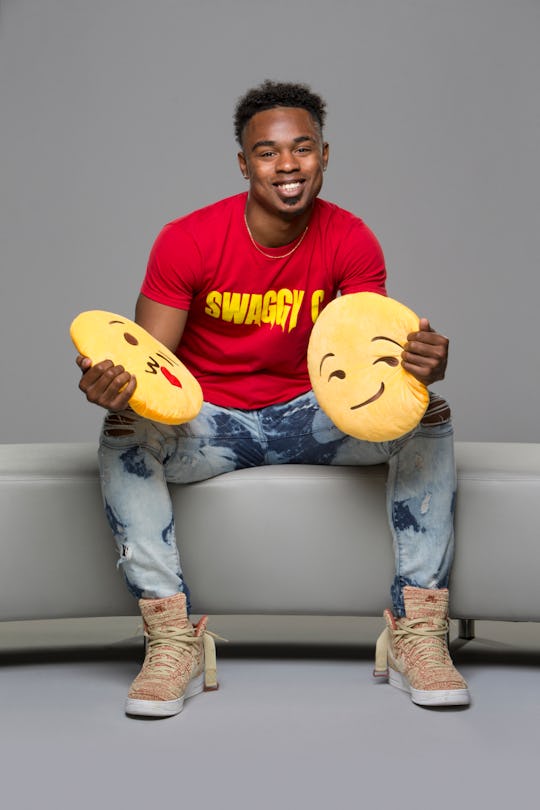 Sonja Flemming/CBS
Chris Williams On 'Big Brother' Knows That Confidence Is Key
In order to last in the Big Brother house, you have to have the confidence and determination to beat everyone else at all costs and Chris Williams on Big Brother 20 seems to have those in spades. Of course, everyone always claims that they're going to win and do whatever it takes to get to the end, but something tells me that Chris is willing to go the extra mile.
For starters, he has an alter ego known as "Swaggy C" and he even has t-shirts which announce this to the world. But before you think it's just a gimmick for Big Brother, it seems like he created this alter ego a while ago. Chris is just 23 years old, but he already has an impressive job as a day trader. Because he trades stocks and different currencies for a living as far as any memorization, mathematical, or analytical competitions go, he's likely going to be a straight up beast.
"I have a photographic memory so you really don't want to ask me, 'How many seconds did the OTEV competition last for?' If I knew it lasted for 45 minutes, I'd just multiply 45 and 60 in my head which is obviously 2700 seconds," Chris said in his Big Brother bio, showing off those skills right off the bat. "Don't ask someone with a photographic memory who excels at math (finance) those kind of questions. HOH tiebreakers would be too easy!" You definitely can't accuse the guy of having low self-esteem.
In his pre-Big Brother interview with Entertainment Tonight, Chris was quick to say that regardless of what comes his way this season, he'll deal with and do pretty much anything to win in the end, including entering into showmances or at least manipulating others who are in showmances. This means that yes, he's currently single. Though there may be some ex-girlfriend drama outside of the house, since he also said getting away from ex-girlfriends specifically is something he looks forward to. He also posted a video on Instagram referring to an ex and what may or may not have been some post-breakup sex.
The whole point of Big Brother is for these houseguests to battle it out for that $500,000 prize. But already, Chris seems like he's doing well for himself. He posts about his travels on Instagram, sometimes by private jet.
He definitely has the right mindset going into the house not to make friends, but with the goal of being the first person of color to ever win Big Brother. But for all of his confidence and swagger, Chris does know that he might need to adjust his season-long strategy in order to win, as he told Ross Mathews in his Big Brother interview.
He also told Mathews that "99 percent of the time," he plans to call out on the deception or betrayals in the Big Brother house, so I'm sure we can expect some yelling matches between Chris and other houseguests at some point. Though, as he pointed out, "Sometimes you may have to sweep it under the rug," as these altercations could make his opposing houseguest the target rather than him.
His confidence could prove to be his biggest strength — take, as an example, Paul Abrahamian's two-season run as a top dog on the show. Or it could be his downfall, depending on who he interacts with. Obviously Chris knows how to play the game and (apparently) has almost every possible scenario planned out, so now all he has to do is try and put his plans into motion.