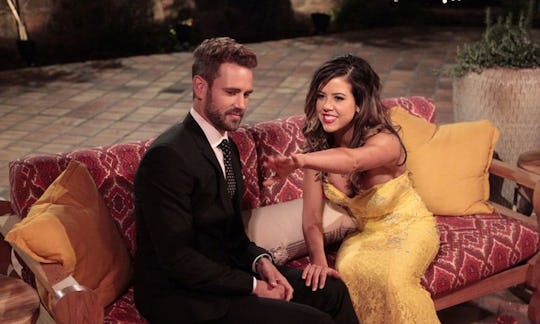 Rick Rowell/ABC
This 'Bachelor In Paradise' Newcomer Should Look Familiar
One of the best things about Bachelor in Paradise that sets it apart from the others in the Bachelor Nation franchise is that new contestants can pop in at any time. Just when one couple gets comfortable, a new contestant appears to shake things up and potentially break up said couple. One of those people may just end up being none other than Christen Whitney. But hold on — who is Christen on Bachelor in Paradise, you may ask? She's from Nick Viall's season of The Bachelor and is going to be making an appearance this season. Though, for some fans, they may find themselves having a tough time remembering anything about her.
While that's plenty fair, Christen did have a few memorable moments on The Bachelor Season 21. You might remember her most for being the unfortunate recipient of Liz Sandoz's revelation that she'd already met Nick ahead of filming The Bachelor. What's even more memorable about Christen was all of the quiet facial expressions she had while Liz explained to her the night she met Nick at Jade Roper and Tanner Tolbert's wedding nine months prior to filming.
Afterward, it was on Christen's somewhat unwilling shoulders to confront Nick, which made him address the situation to the rest of the women. But other than that, Christen from Bachelor in Paradise might not be as memorable of a contestant as she could have been. The Tulsa, Oklahoma native now lives in Nashville and while it's unclear yet if she still works as a wedding videographer, she does seem to be totally immersed in the Bachelor Nation lifestyle.
In the preview for Bachelor in Paradise Season 4 that was shown during The Bachelorette finale, Christen's big spot was about her virginity and you could hear her mention how there always has to be a virgin in Paradise, after which Jack Stone from Rachel's season of The Bachelorette said, "I think you have to get over that here." (Uh, thanks but no thanks for your input, Jack Stone.) But later in the preview he does tell the camera, "What Christen and I have is real love and I 100 percent see myself marrying her one day," so I guess he gets brownie points for that? Maybe?
Instead of going home three weeks into the season, like she did with Nick's season of The Bachelor, it seems like Christen is going to get a legit chance at finding love on Bachelor in Paradise. But even when she was booted from The Bachelor, she had a good sense of humor about it afterward, which might make her someone to love this season on Bachelor in Paradise.
Christen might be remembered as The Bachelor contestant who had to hear Liz's big confession about Nick, but Bachelor in Paradise is all about second chances and I think this could be her time to shine.