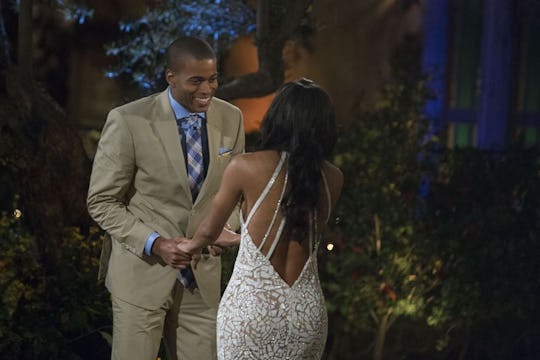 Paul Hebert/ABC
Eric From 'The Bachelorette' Isn't Afraid To Speak His Mind
Season 13 of The Bachelorette might legitimately be one of the most dramatic so far and it's only been on for three weeks. Obviously the kind of drama between suddenly catty men is what fans secretly hope for, but it seems like Rachel is dealing with a new scenario every week, with the most recent drama coming from Eric and Lee. Apparently not one to back down, Eric was adamant in sticking up for himself, but who is Eric from The Bachelorette?
Rachel's contestant is actually a professional motivational speaker, so it's no wonder that he's unafraid to speak his mind and lay it all out there. With yet another he said/he said for Rachel to deal with, the poor Bachelorette is likely finding it increasingly difficult to figure out which man is right for her, but it's also not fair to totally judge these men strictly by what we see in the show — because in real life, Eric seems totally genuine.
So maybe it's just the pressure of competing with a couple dozen other men for one woman on national TV. Or maybe Lee just brings the frustration out in him (though I can't say that I really blame him there). But outside of the Bachelor Mansion, Eric seems like a decent candidate for Rachel's heart The personal trainer, who runs his own business, is also a motivational speaker and his Instagram is full of different inspiring quotes and messages to back that up.
Eric posted one photo with a Tina Fey quote in the caption, stating:
Do your thing and don't care what "THEY" think! No one can be you more than you. Have peace with believing in yourself and going after what you know is true for you. Don't give time to giving care to someone or something who doesn't care for you because we get more what we focus on. Focus on your greatness and be open for growth. Let the others be other and you be YOU!
Obviously this way of thinking is a great philosophy to have, especially since anything Tina Fey says is practically gold. And it seems like Eric could use some of that advice right now, given what's currently going on between him and several of the other contestants. At the end of Episode 3, Lee and Bryce both questioned whether Eric's motives and intentions for being on The Bachelorette were pure. Eric was able to settle things on relatively good terms with Bryce, but his conversations with Lee have only continued to escalate.
Eric still managed to get a group date rose from Rachel, though, even amid all of this current drama, which shows just how much she likes him. Eric seems like someone who would rather stay positive and peaceful when he's not on the show, which makes the drama unfolding between Eric and Lee on The Bachelorette that much more intense to watch.
Lee accused Eric of being too inexperienced with love and relationships to really take his time on the show seriously enough, but it looks like whatever has started between the two of them is about to continue to blow up. Hopefully Eric can use some of his motivational skills to shut it down though, because Rachel needs a serious break from the drama.