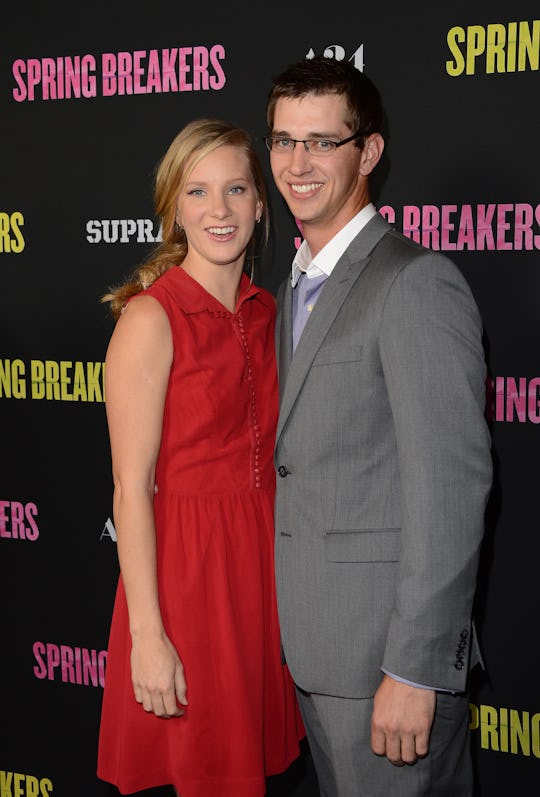 Jason Merritt/Getty Images Entertainment/Getty Images
Heather Morris' Husband Is A Definite Keeper
The FOX musical drama/comedy Glee may be over for good, but don't tell me there aren't any Gleeks (yes, I said it) who are excited to see Heather Morris return to the small screen, this time to compete on Dancing With the Stars. But in the time since she played the lovable Brittany S. Pierce, she's been living a happy life and fans are likely wondering who Heather Morris' husband is.
She is married to Taylor Hubbell, who was actually her longtime boyfriend and high school sweetheart, so all together now — awww! Hubbell takes care of the couple's two toddlers for the most part, as a totally adorable and devoted husband and father, but their relationship began long before Hollywood and children came into the picture. According to People magazine, Morris and Hubbell were high school sweethearts, but their romance was put on hold for Morris to pursue acting in California and for Hubbell to attend the University of Louisiana at Lafayette.
But it wasn't long before the couple found their way back to each other and Hubbell moved from Louisiana to L.A. in order to be with Morris back in 2012. Soon after in 2013, the couple welcomed their first son, Elijah, and in 2016 they had their second child, another boy, who they named Owen.
But even with their hands full raising two toddlers and, according to Hubbell's Instagram (who takes on tons of household projects like any awesome dad would do), he still has time for a career. According to Hubbell's LinkedIn profile, the former political science major currently works at the North Ranch Country Club as Director of Membership and Marketing, which kind of sounds like a big deal.
But like I said, Hubbell's social media accounts paint a picture of a devoted family man who uses Instagram for its intended purpose — posting tons of adorable photos of his kids and wife. I mean, the guy's Instagram bio says: "2 Sons, a beautiful wife and a rock solid family base." I don't think you could get more genuine than that.
When Hubbell isn't posting shout-outs to his wife and being genuinely sweet, he's apparently building Pinterest-level beds and working on house projects. So much so that when someone tweeted him that he and Morris should get their own home flipping show, he responded, "I love this idea!" Um, yes please.
As Morris gears up to compete on Season 24 of DWTS, which premieres on Monday, March 20, Hubbell has been quick to retweet about his wife's impending spot on the ballroom floor, showing his all-around support. So yeah, they're pretty solid and are total #marriagegoals.