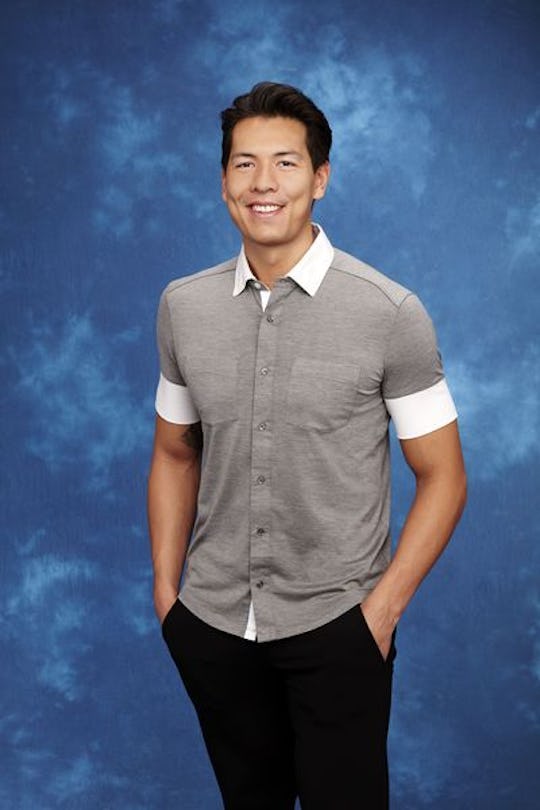 ABC
Who Is Jon Hamilton On 'The Bachelorette'? He Might Be The Whole Package
Making a claim that one of the contestants on The Bachelorette this season is perfect or "the whole package" is kind of a strong one. Especially since all of the guys looking to steal JoJo Fletcher's heart are going to each be their own brands of awesome, but Jon Hamilton has a little bit of everything, making him a pretty stellar contestant. So, who is Jon Hamilton on The Bachelorette? He's not going to be one to fly under the radar. You don't get to compete for JoJo's love by being an everyman, and as a guy who showed up to meet JoJo in a kilt, Jon Hamilton isn't one to be underestimated.
As with any of the 12 guys competing on The Bachelorette, Jon Hamilton stands out in his own ways. And one way to do that is donning a kilt and assuring us all that he's half Chinese and Scottish. It was a clever trick to make the 29-year-old stand out in a crowd of a dozen other men who all look like they're ready for a professional photo shoot. Could it kill any of them to be a little scruffy or unkempt? Maybe a piece of a shirt untucked?
Of course, it's a given that the contestants on The Bachelorette be dazzling on the surface and able to totally win JoJo over (and also, you know, the audience), but let's take a look at who Jon Hamilton is and what he has to offer this season on The Bachelorette.
He's A Family Man
Jon's Instagram almost resembles that of your one friend who can't stop posting photos of their new baby or toddler. Only, he's not a parent, but instead an incredibly doting uncle who is rightfully obsessed with the little ones in his life. You know how they say men with babies are always hot? Yeah, "they" aren't lying.
His Education Knows No Bounds
According to WetPaint, he has a Bachelor's degree in History, with a minor in economy from Simon Fraser University in Vancouver and went on to study mechanical engineering at the British Columbia Institute of Technology. Which isn't bad for a guy who hasn't even reached 30 yet.
He's Got An Impressive Job
As a technical sales rep for Somatic HVAC solutions, Jon works in mechanical engineering serves and design, as well as maintenance and construction of the actual systems. So basically, he's an expert.
He Isn't Afraid To Insult His Own Photos
There is something totally cute and refreshing about a guy who can be self-deprecating. Jon isn't above calling himself out for a goofy picture or an embarrassing shot of himself.
He's Got A Sense Of Humor
If seeing him in a kilt won't convince you of his humor, then take into account the fact that he can make references to himself being Hank Hill. Any guy who can make an obscure reference to an off-air adult cartoon is much more than a pretty face.
He Played Hockey In College
Not only did Jon play hockey while attending Simon Fraser University, but he also played as a kid, giving him athletic points on top of those smarts and cuteness points. How many is that now?
Obviously JoJo will have her work cut out for her this season on The Bachelorette, but the good news for her is that she's on the other side of the competition now. And when the 12th season premieres Monday on ABC, we'll just have to see which of the 26 guys will be the one to keep around.